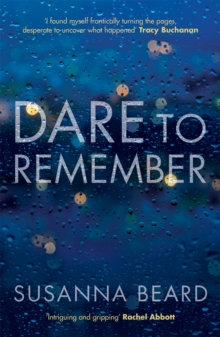 Dare to Remember: `Intriguing and gripping', a psychological thriller that will bring you to the edge of your seat...
Paperback / softback
Description
'I found myself frantically turning the pages, desperate to uncover what happened' --Tracy BuchananReeling from a brutal attack that leaves her best friend dead and her badly injured, Lisa Fulbrook flees to the countryside to recuperate.
With only vague memories of the event, she isolates herself from her friends and family, content to spend her days wandering the hills with her dog, Riley. However, Lisa is soon plagued, not only by vivid flashbacks, but questions, too: how did their assailant know them?
Why were they attacked? And what really happened that night?As she desperately tries to piece together the memories, Lisa realises that there's another truth still hidden to her, a truth she can't escape from.
A truth that may have been right in front of her all along. A clever, sophisticated, psychological thriller, perfect for fans of Gillian Flynn, S.J.
Watson, B A Paris and Sophie HannahWhat Reviewers and Readers Say:'Dare to Remember is an intriguing and gripping debut novel.
A perceptive exploration of the trauma of losing your best friend' --Rachel Abbott'A tense journey into one woman's struggle with the aftermath of a vicious attack that killed her best friend.
I found myself frantically turning the pages, desperate to uncover what happened on the night of the attack.
Susanna Beard is a thought-provoking, skilled debut writer who will no doubt win a new army of thriller fans with this clever novel.' -- Tracy Buchanan'Beautifully taut and controlled writing - gripping all the way through' --Shelley Weiner'Written with care and a deep level of understanding, while simultaneously building up the suspense until you are racing to find out what happened... a great read.' --Sue Fortin, bestselling author of 'The Girl Who Lied''A taut, compelling read.
Full of atmosphere and humanity. Susanna brilliantly portrays through the central character the times in our lives that leave us guilty and emotionless and unable to move forward with purpose.
A stunning and confident first novel.' --Sharon Bloom'This is a great exploration into the psychological impact of a traumatic event.
I warmed to Lisa immediately and felt every bit of her frustration as she struggled to remember the details of the night she and her best friend were attacked by someone they knew and trusted.
It kept me reading into the night as I raced to find out how this twisty, shocking story would end.' --Sam Carrington'A deep and dark look at how we can overcome trauma.' --Keeper of Pages'The narrative is both uplifting and disquieting as Lisa pushes against her past attack, and dares not just to remember, but to hope as well.
An impressive debut for Susanna Beard.' --Joy Kluver'Sometimes you pick up a book and after reading only a few pages, you know that this book is going to be a worthy read.
This is what happened to me when I picked up Dare to Remember.' --Day Dreamers Thoughts'Susanna Beard unspools the story at just the right pace to keep interest and intrigue.' --Barbara Copperthwaite
Information
Format: Paperback / softback
Pages: 256 pages
Publisher: Legend Press Ltd
Publication Date: 13/01/2017
Category: Crime & mystery
ISBN: 9781785079115
Free Home Delivery
on all orders
Pick up orders
from local bookshops