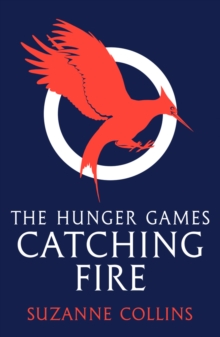 Description
The second book in the ground-breaking HUNGER GAMES trilogy.
After winning the brutal Hunger Games, Katniss and Peeta return to their district, hoping for a peaceful future.
But their victory has caused rebellion to break out ...and the Capitol has decided that someone must pay.
As Katniss and Peeta are forced to visit the districts on the Capitol's Victory Tour, the stakes are higher than ever.
Unless they can convince the world that they are still lost in their love for each other, the consequences will be horrifying.
Then comes the cruellest twist: the contestants for the next Hunger Games are announced, and Katniss and Peeta are forced into the arena once more.
Information
Format: Paperback
Pages: 480 pages
Publisher: Scholastic
Publication Date: 01/12/2011
Category: Adventure
ISBN: 9781407132099
Free Home Delivery
on all orders
Pick up orders
from local bookshops
Reviews
Showing 1 - 5 of 8 reviews.
Previous | Next
Review by fothpaul
16/06/2015
This was another enjoyable installation in the series. I read it through fairly quickly and enjoyed reading about the charcters who were left after the first book.To my mind it seemed to stumble along a little until the second installment of the Hunger Games in these books began. I really enjoyed the Games section of this book again, but I felt that it took a long time to get this far. I also found myself becoming increasingly annoyed with the main character Katniss. While reading I am aware of the fact that I am not the main intended audience for this series, but I still found her change from unwiling heroine into grumpy little madam stringing along two unfortunate blokes a bit of a pain.I will of course read the finale and hope that it keeps up the very redable writing style. There are certainly some ideas which I like in these books or I wouldn't keep on reading them.
Review by UltimaJenko
16/06/2015
It was a great book, brilliant second book to the series. Was a bit slow to start, but enjoyed it none the less. It didn't start getting exciting till about 3/4 of the way through the book for me, but I still loved it and couldn't put it down. I'm quite a harsh person when it comes to reviewing but I hope when people see I've put 4/5 stars won't put them off reading the second book. All in all an outstanding read, and an excellent second book to the series of the Hunger Games.Thank you Suzanne Collins! 4/5 stars.
Review by passion4reading
16/06/2015
A clever plot with a message, a breathless roller-coaster ride with two very strong and memorable characters, and a very moving love story: still as good the second time round as the first.
Review by reading_fox
16/06/2015
Enjoyable and fast paced. Seemed very short! But by page count is reasonable. Given the nature of how the first book was written, it seemed inevitable that Katniss was gong to end up back int he Games area a again. The only real question was how badly a contrived a manner was this going to be arranged. The answer is not too badly at all. She's already apparently annoyed the authorities by managing to survive with her district 'lover'. - believable enough if you're paranoid dictators any even slightly implied criticism of your actions will bring retribution. Katniss though hasn't thought this through and has spent most of her six months enjoying her new life of luxury. Meanwhile apparently- according to the President which is never a believable source of information - her instinctive and selfish action has been seen as symbol of rebellion across the cityscape, and tensions within all the Districts are high. The President personally calls upon Katniss before her celebration tour, to ask her -with thinly veiled threats - to show an absolute obedience in all political manners, that might help calm the situation. However her designers have other ideas and when the Quarter Century memorial games are announced it seems she was not believable enough. This years competition will be among all surviving tributes form each District - Katniss has to go back. But her goal has changed this year. Life has got harder in District 12 and maybe only Peetra can help. She swears to keep him alive, and this time she has allies, although everyone appears to know secrets apart from her. Much the same as the previous, well described world, and sort of believable totalitarian politics, little in the way of backstory about how it came to be, just that it is. The usual minor corruptions that one might expect in such situations, and the ruthless crack down from an insecure ruling class - much the same as anywhere. Te tension is kept high enough and actions flow seamlessly on, so it all works well. There is little that is truly novel or inspiring, but at the same time it is written to be enjoyable.
Review by john257hopper
16/06/2015
I read this follow up to the Hunger Games after watching the film on Christmas Eve. The film was very good, though perhaps not quite as gripping as the first one, if only because it is the middle of a trilogy and I was familiar with the basics. The book is, if anything, even better than the first as the characters' motivations are more deeply explored and the same events that happen in the film are richer and more detailed, making it seem a fuller book than the first compared to their respective film counterparts. The cynicism of President Snow and the Gamemakers comes across more starkly, as do the bleakness, poverty and oppression of the lives of the inhabitants of the various districts. The ending sets things up tantalisingly for a rather different direction in the final part of the trilogy - I understand that Mockingjay will be made into two films, but I don't think I will wait until they come out before reading the third book.
Also in the Hunger Games Trilogy series | View all