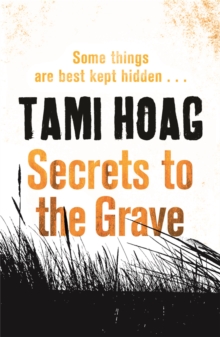 Secrets to the Grave
Paperback
Part of the Oak Knoll series
Description
In SECRETS TO THE GRAVE, Tami Hoag - the Sunday Times bestselling author of A THIN DARK LINE - returns with the second mystery in the Oak Knoll series starring FBI profiler Vince Leone.A mother is murdered.
A child's heart is broken. Only one woman can uncover the truth.A woman lies on her kitchen floor, lacerated and naked.
A four-year-old girl rests her head on the woman's bloody shoulder.
A whisper hangs in the air: My daddy hurt my mummy . . .With a clue like that, finding the perpetrator should be easy.
But nobody knows who Haley's daddy is and she won't say a word about it.
Anne Leone, a child advocate, realises that unravelling the child's secrets will be difficult.
But no one knows just how difficult. As FBI profiler Vince Leone begins to build up a picture of the killer he has one huge problem.
Despite being well-known in her small town, Haley's mother seems never to have officially existed . . .Watch out for the next title in the FBI Profiler Vince Leone series DOWN THE DARKEST ROAD
Information
Format: Paperback
Pages: 528 pages
Publisher: Orion Publishing Co
Publication Date: 01/12/2011
ISBN: 9781409120933
Free Home Delivery
on all orders
Pick up orders
from local bookshops
Reviews
Showing 1 - 2 of 2 reviews.
Review by wyvernfriend
16/06/2015
Set in the 80s this is a complicated involved story about a murdered woman, her daughter who is injured alongside her and the investigation into that murder. The story also explores some of the issues around being born a psychopath and what creates psychopathy in some people. It's also about secrets and lies.I liked it, an interesting story that kept me reading but at the same time some of the myriad of characters started to blur a little in my head. I'm going to go back and read the first book in the sequence (though this one did contain spoilers for that one) and see if it makes it better for me. I may have missed a lot of the character setups from the first book.
Review by tina1969
16/06/2015
Marissa Fordham had a past full of secrets, a present full of lies. Everyone knew of her, but no one knew her. When Marissa is found brutally murdered, with her young daughter, Haley, resting her head on her mother's bloody breast, she sends the idyllic California town of Oak Knoll into a tailspin. Already on edge with the upcoming trial of the See- No-Evil killer, residents are shocked by reports of the crime scene, which might not have been discovered for days had it not been for a chilling 911 call: a small child's voice saying, "My daddy hurt my mommy."My Thoughts:This is the second book in the 'Oak Knoll' series. I felt that I didn't quite enjoy this book as much as I did the first one. My reason being is that the book hadn't got the spark the first one did which is the passion between the hero and heroine.When I pick up a book by Tami Hoag, alongside with Karen Rose, Sandra Brown and Erica Spindler I know what I am going to get, a mystery with a romance. The hero and heroine will play cat and mouse with each other then finally there will be few sex scences. With this book being second in a series the hero and heroine are now married and there is no romance. The story was ok, just an average crime read, but I missed the romance. I did gues who the killer was towards the very end so that was a positive that I was kept guessing. Tami Hoag will always be an author I would seek out many times but enjoy the books more when there is a romance.