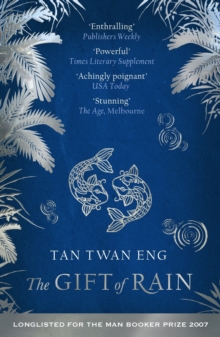 The Gift of Rain
Paperback
Description
Penang, 1939. Sixteen-year-old Philip Hutton is a loner. Half English, half Chinese and feeling neither, he discovers a sense of belonging in an unexpected friendship with Hayato Endo, a Japanese diplomat.
Philip shows his new friend around his adored island of Penang, and in return Endo trains him in the art and discipline of aikido.
But such knowledge comes at a terrible price. The enigmatic Endo is bound by disciplines of his own and when the Japanese invade Malaya, threatening to destroy Philip's family and everything he loves, he realises that his trusted sensei - to whom he owes absolute loyalty - has been harbouring a devastating secret.Philip must risk everything in an attempt to save those he has placed in mortal danger and discover who and what he really is.
With masterful and gorgeous narrative, replete with exotic and captivating images, sounds and aromas - of rain swept beaches, magical mountain temples, pungent spice warehouses, opulent colonial ballrooms and fetid and forbidding rainforests - Tan Twan Eng weaves a haunting and unforgettable story of betrayal, barbaric cruelty, steadfast courage and enduring love.
Information
Format: Paperback
Pages: 448 pages
Publisher: Myrmidon Books Ltd
Publication Date: 27/05/2008
ISBN: 9781905802142
Free Home Delivery
on all orders
Pick up orders
from local bookshops
Reviews
Showing 1 - 5 of 5 reviews.
Review by cfbookgroup
16/06/2015
We discussed whether we could understand the character's motivation for action and behaviour. Cultural differences perhaps. A very fine book, well written and evocative. Interesting to read about the WW2 in that part of the world. Really violent at the end - too much.
Review by mich_yms
16/06/2015
A very good book, one that engages the reader right from the beginning. There are pockets inserted at strategic positions within the story to allow the reader some breathing space, but the story remains perfectly intact, without the feeling of it being severed or cut-off.A book that depicts the beauty of colonial architecture right down to the heavenly smells of local Penang in Malaysia, this is definitely something I'd recommend to anyone who's interested in reading about what it might have been like in pre-war Malaya.
Review by hobbitprincess
16/06/2015
I wasn't sure I would like this book, but it turned out to be a good read. The setting is Malaysia, during modern times with flashbacks to the WWII era. Phillip, the main character, is Eurasian, the son of a wealthy man and a Chinese mother. He gets involved with a Japanese man who teaches him martial arts and many aspects of Japanese culture. Animosity brews between Phillip, his family, and the people in the town as the Japanese attack places. I won't say more because it will give away the plot, but there is much, much more to this book than this. It is a good book, one I recommend.
Review by nuwanda
16/06/2015
This is a book that practically begs for being made into a major silver screen tearjerker with a star-studded cast and an original soundtrack by Hans Zimmer. If that's your thing, then great - go get the book and read your heart out. Personally, however, I was very much underwhelmed pretty much on every account and aspect, but perhaps this was a question of too high expectations.
Review by Limelite
16/06/2015
Beautiful, gentle, graceful, and tragic. Told through flashback after a mysterious woman arrives at his door on Penang Island, the story of teen-aged Philip, half-Chinese, half-English youngest son of an important Malaysian trading dynasty is befriended by Endo-san, a Japanese diplomat and martial arts sensei in 1938.At first, the relationship seems harmless as the boy and man develop a strong bond through teacher-pupil norms and through Philip's desire to learn about Japanese culture. But hints drop that Endo has a black past and once Philip meets his estranged Chinese grandfather, the balance of power shifts.The war that loomed on the horizon comes, shattering the peaceful and traditional culture of Malaysia. Choices must be made that will determine survival, even if it may mean betrayal of those one loves, even family. What terrible thing will Philip do during the war? What price will he pay once the war is over? And has the possibility of redemption died along with nearly everyone he knew, or has it arrived on his doorstep?