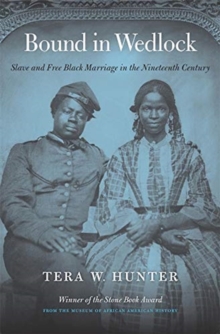 Bound in Wedlock : Slave and Free Black Marriage in the Nineteenth Century
Paperback / softback
Description
Winner of the Stone Book Award, Museum of African American HistoryWinner of the Joan Kelly Memorial Prize, American Historical AssociationWinner of the Littleton-Griswold Prize, American Historical Association and the American Society for Legal HistoryWinner of the Mary Nickliss Prize, Organization of American HistoriansWinner of the Willie Lee Rose Prize, Southern Association for Women HistoriansAmericans have long viewed marriage between a white man and a white woman as a sacred union.
But marriages between African Americans have seldom been treated with the same reverence.
This discriminatory legacy traces back to centuries of slavery, when the overwhelming majority of black married couples were bound in servitude as well as wedlock, but it does not end there.
Bound in Wedlock is the first comprehensive history of African American marriage in the nineteenth century.
Drawing from plantation records, legal documents, and personal family papers, it reveals the many creative ways enslaved couples found to upend white Christian ideas of marriage. "A remarkable book... Hunter has harvested stories of human resilience from the cruelest of soils...
An impeccably crafted testament to the African-Americans whose ingenuity, steadfast love and hard-nosed determination protected black family life under the most trying of circumstances."-Wall Street Journal"In this brilliantly researched book, Hunter examines the experiences of slave marriages as well as the marriages of free blacks."-Vibe"A groundbreaking history...
Illuminates the complex and flexible character of black intimacy and kinship and the precariousness of marriage in the context of racial and economic inequality.
It is a brilliant book."-Saidiya Hartman, author of Lose Your Mother
Information
Format: Paperback / softback
Pages: 416 pages, 17 photos, 4 illus.
Publisher: Harvard University Press
Publication Date: 22/02/2019
Category: History of the Americas
ISBN: 9780674237452