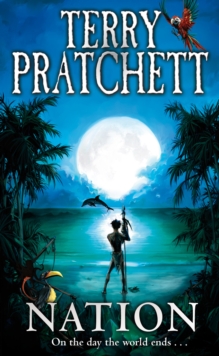 Description
On the day the world ends ...Mau is on his way home from the Boys' Island.
Soon he will be a man. And then the wave comes - a huge wave, dragging black night behind it and bringing a schooner which sails over and through the island rainforest.
The village has gone. The Nation as it was has gone. Now there's just Mau, who wears barely anything, a trouserman girl who wears far too much, and an awful lot of big misunderstandings ...Wise, witty and filled with Terry Pratchett's inimitable comic satire, this is a terrific adventure that - quite literally - turns the world upside down.
Information
Format: Paperback
Pages: 432 pages
Publisher: Random House Children's Publishers UK
Publication Date: 01/10/2009
Category: Fantasy
ISBN: 9780552557795
Other Formats
Paperback from £7.09
EPUB from £4.99
eAudiobook MP3 from £8.00
Free Home Delivery
on all orders
Pick up orders
from local bookshops
Reviews
Showing 1 - 5 of 10 reviews.
Previous | Next
Review by pauliharman
16/06/2015
A slightly disappointing Pratchett; I can't help feeling I've seen most of these ideas before from him - and those I haven't are straight out of central casting - Atlantis, Peter Pan, Robinson Crusoe [but of course that's Pratchett's stock in trade, taking common myths and putting his own spin on them]. Still better than a lot of fiction you'd read. "Thinking - this book contains some" is a bit of a condescending author's note at the end, but hey I'm not really the target audience for this.
Review by sarah_rubyred
16/06/2015
As an adult who loves YA fiction this is the perfect book. A fantastic seafaring adventure with interesting discussions of race, culture and colonisation. It's also got a beautiful love story and of course some ghosts.You know it's a good book when you just don't want it to end - more!
Review by iankg
16/06/2015
I've never yet picked up a Pratchett which I haven't enjoyed, and this was no exception. However, despite raves from nearly everyone else (including Fantasy & Science Fiction Mag's "Just possibly the best book Pratchett has ever written"), it won't go on my list of books to read again and again. Somehow it just didn't match up to what I've come to expect from Pratchett - it was humorous, but it didn't have me stuffing my hankie in my mouth to smother the guffaws; there was pathos, but it didn't gently beat my emotions to a pulp in the way that (for example) Night Watch did. Even the "thought provoking" tag that so many other people have mentioned didn't really ring any bells for me. Perhaps the excursion out of Discworld and onto Earth contributed - the fantasy just didn't quite work for me.
Review by geoffgibbs
16/06/2015
I put off getting this for some time as it was categorized as a children's book, but eventually I gave in and then couldn't put it down until I'd finished it.It is quite different from the other Pratchett books I have read, not laugh out loud funny like most of the discworld novels, but still has Pratchett's fantastic use of language.
Review by Orangez
16/06/2015
An intriguing take on history with some moral issues being raised (classes, upbringing, race, old/young etc.). The book has an awesome start where one is truly pulled in the story. As the story unfolds there is a lot going on and the characters are very well rounded. For me the end was a little too 'sweet' but I can imagine that for some it was as it was supposed to be. All in all, great stuff!