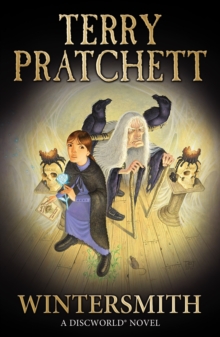 Description
When the Spirit of Winter takes a fancy to young witch Tiffany Aching, he wants her to stay in his gleaming, frozen world.
Forever. It will take all the young witch's skill and cunning, as well as help from the legendary Granny Weatherwax and the irrepressible Wee Free Men, to survive until Spring. Because if Tiffany doesn't make it to Spring - Spring won't come.
The Third Book In The Tiffany Aching Sequence.
Information
Format: Paperback
Pages: 400 pages
Publisher: Random House Children's Publishers UK
Publication Date: 27/09/2007
Category: Fantasy
ISBN: 9780552553698
Other Formats
Paperback from £7.09
CD-Audio from £12.65
Hardback from £10.19
EPUB from £4.99
eAudiobook MP3 from £6.40
Free Home Delivery
on all orders
Pick up orders
from local bookshops
Reviews
Showing 1 - 5 of 8 reviews.
Previous | Next
Review by lorelorn_2007
16/06/2015
Tiffany Aching is sealed as one of my favourite Pratchett characters. This third book to feature her is all about facing the consequences of your actions, howver unintentional they might have been.
Review by reading_fox
16/06/2015
Not possibly the best of Terry's work, but far from the worst either. Tiffany Aching is still up in Lancre learning to be a witch from old Miss Treason. When she is shown the 'other' Morris dance to welcome in Winter she accidently gets involved and finds that the Wintersmith - King Winter - has become enamoured of her. This is Not a Good Thing, as she doesn't have any of the powers of Summer, to drive him away. Well not yet anyway.....One of the sub themes - romance from a young girl's perspective, is perhaps not something that Terry as a middle aged man is best suited to deal with. He takes a fair stab at it though, and there is always Nanny Ogg to drag the conversations down to the appropriate level. Not as dark as the previous younger DW stories. Narratively it is unusual in that it has a start that only occurs later in the book.
Review by akfarrar
16/06/2015
At 113 years old, Miss Treason, a witch, knows about the connection between age, beans, fresh fruit and 'letting out wind'!Tiffany, only 13 years old, with a 'he's not my boyfriend!' (even if he does send her letters with SWALK on them), is learning witchcraft from Miss Treason. She discovers there is lot of hard work, cleaning around the cobwebs and polishing the skulls, chasing after the cheese - called Horace, a rather single-minded blue cheese - oh, and a strange tingling feeling behind the eyes when Miss Treason, who is blind, uses you as a mirror.Like most teenage girls, Tiffany has a will of her own - and even if she was told to stay still and just watch, why can't she join in the dance - especially when there is an empty space just waiting for her?Months latter, with the snow falling thick, burying the newborn lambs, with a young brother missing and with her father begging her to help, she understands why.This is one of Terry Pratchett's books for 'all children, aged 12 and above' - meaning anyone who is or once was 12!It has a thumping good story line - strong characters, awful jokes and moments of danger: Perfect for the Christmas stocking.At the heart of it is Tiffany's growing sense of identity - she has to cope with establishing who she is in a world of strong personalities (none stronger than Granny Weatherwax - control freak leader of the witches - who don't have a leader), deal with Death - and loss (someone has to clean up after the funeral, and milk the goat, and hide the Boffo), and ward off the unwanted attentions of a love-struck adolescent elemental.This might be Discworld - but the emotions and themes are of this world.The clear lines of the plot, the straightforward language and the characters all make this an attractive read for younger teenagers - but straight forward doesn't mean without depth.As with many of his other books, Pratchett taps into age-old myths - fictional expressions of the fears and hopes, the irrational explanations of what it is to be human.Here we have the Persephony myth entangled with Morris Dancing; Orpheus and the 'Wee People' working together; Celtic Ironsmiths crossed with the Greek pantheon.This gives the story much greater significance - it is for the proto-adult in the child as much as for the vestigial child in the adult.Yes, I smile when I see Morris Dancers prancing around in the concrete shopping centres of our towns - but having read this book, I will now see a dance which touches on the very turning of the seasons.It is a Carry On meets The Golden Bough sort of experience!
Review by pauliharman
16/06/2015
Another enjoyable book in the Discworld series. Plays with similar themes as other Witches books and Hogfather, but still refreshingly different and with all the usual Pratchett humour and insight into the human condition.
Review by johnthefireman
16/06/2015
Funny and incisive as one would expect from Pratchett, but this is not one of his best. The witches and the Nac Mac Feegles are great, but the story is a bit weak.