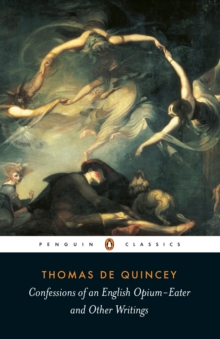 Confessions of an English Opium Eater
Paperback
Description
A masterpiece of autobiography, and perhaps the first literary memoir of an addict, the Penguin Classics edition of Thomas De Quincey's Confessions of an English Opium-Eater is edited with an introduction by Barry Milligan. Confessions is a remarkable account of the pleasures and pains of worshipping at the 'Church of Opium'.
Thomas De Quincey consumed daily large quantities of laudanum (at the time a legal painkiller), and this autobiography of addiction hauntingly describes his surreal visions and hallucinatory nocturnal wanderings through London, along with the nightmares, despair and paranoia to which he became prey.
The result is a work in which the effects of drugs and the nature of dreams, memory and imagination are seamlessly interwoven, describing in intimate detail the mind-altering pleasures and pains unique to opium.
Confessions of an English Opium-Eater forged a link between artistic self-expression and addiction, paving the way for later generations of literary addicts from Baudelaire to James Frey, and anticipating psychoanalysis with its insights into the subconscious. This edition is based on the original serial version of 1821, and reproduces two 'sequels', 'Suspiria de Profundis' (1845) and 'The English Mail-Coach' (1849).
It also includes a critical introduction discussing the romantic figure of the addict and the tradition of confessional literature, and an appendix on opium in the nineteenth century. Thomas De Quincey (1785-1859) studied at Oxford, failing to take his degree but discovering opium.
He later met Coleridge, Southey and the Wordsworths.
From 1828 until his death he lived in Edinburgh and made his living from journalism. If you enjoyed Confessions of an English Opium-Eater, you might like William S.
Burroughs' Junky, available in Penguin Modern Classics. 'De Quincey was one of the first great autobiographers' Jonathan Bate
Information
Format: Paperback
Pages: 352 pages, chronology, glossary, notes
Publisher: Penguin Books Ltd
Publication Date: 27/03/2003
Category: Biography: general
ISBN: 9780140439014
Other Formats
Paperback from £1.99
Audio disk from £11.39
EPUB from £0.99
Hardback from £16.55
Paperback / softback from £5.99
PDF from £5.19
Free Home Delivery
on all orders
Pick up orders
from local bookshops
Reviews
Showing 1 - 5 of 5 reviews.
Review by StevenTX
16/06/2015
In the early 19th century opium was as cheap and widely available as aspirin is today, and used almost as freely. Taken typically in a liquid form called laudanum, it was an effective painkiller for persons of all ages, and a cheap intoxicant. Thomas De Quincey first took opium as a youth for an affliction that sounds like a sinus infection. He so enjoyed its effects that for several years he took a dose as a treat every Saturday night. He found it made him more sociable and enhanced his enjoyment of the opera. It was only when he started taking laudanum daily for a chronic stomach pain that he became physically addicted to it. As he took greater and greater doses, De Quincey experienced vivid, exotic and terrifying dreams, some of which he describes in his writings.De Quincey tells us in no uncertain terms that he is THE expert on opium addiction. He disputes what the medical profession says about the drug. "And therefore, worthy doctors," he proclaims, "stand aside, and allow me to come forward and lecture on this matter." He also lets us know that he was, and is, an unparalleled scholar of the Greek language and as at home in Latin as Cicero. But he seems to have disdained any form of regular employment and spent most of his life in poverty, living off of the charity of a prostitute at one point, and later becoming something of a parasite of the poet William Wordsworth. De Quincey moved frequently to stay ahead of debt collectors, and wrote his Confessions while in hiding in London.The Confessions are largely a self-justification of his predicament, but there is some valuable insight into the effects of opium from a person who has gone through all stages of casual use, dependency, addiction, and withdrawal. As an example of one of his dreams: "I was buried, for a thousand years, in stone coffins, with mummies and sphynxes, in narrow chambers at the heart of eternal pyramids. I was kissed, with cancerous kisses, by crocodiles; and laid, confounded with all unutterable slimy things, amongst reeds and Nilotic mud.""Suspira de Profundis" (A Sigh from the Depths) is a sequel of sorts to the Confessions, but one that mostly goes back to fill in details of De Quincey's childhood. His point apparently is to show the raw material for some of his opium dreams, but he doesn't tell us a lot about the dreams themselves. Instead he, once again, seems chiefly to want to impress us with how exceptionally brilliant and sensitive he was as a child. He writes with such a combination of insufferable arrogance and rambling, purple-prosed Victorian sentimentality that it becomes an unintentional self-parody. De Quincey would have us believe that he was in tears when his housemaid killed a spider, and was only consoled when she explained that it was necessary to save the lives of the fifty flies that the spider would have murdered."The English Mail Coach" begins with a much welcome bit of humor, as De Quincey describes the public express coaches which he rode frequently between Oxford and London. The coaches held four passengers inside, and three on the roof with the driver. "It had been the fixed assumption of the four inside people," he explains, "that they, the illustrious quaternion, constituted a porcelain variety of the human race, whose dignity would have been compromised by exchanging one word of civility with the three delf ware outsides. Even to have kicked an outsider might have been held to attaint the foot concerned in that operation; so that, perhaps, it would have required an act of parliament to restore its purity of blood."In the second half of the essay De Quincey gets serious again and describes in detail an accident in which the massive mail coach in which he is riding at the furious speed of thirteen miles an hour overturns a small gig. The horrified De Quincey sees a young woman go flying, and he assumes she is killed (though the coach apparently never stopped). He then describes five opium dreams from later years, each a bizarre and unique variation of that accident.De Quincey's condescending tone and his rambling, repetitive, but incomplete narrative can be infuriating, but his Confessions do offer valuable insight into the social and psychological aspects of opium use in early 19th century England.
Review by amydross
16/06/2015
Witty and erudite, if prone to fits of self-indulgent loquacity. This is the drug confessional that began a whole genre, but the author is strangely coy about the details of his experiences, both positive and negative.
Review by HadriantheBlind
16/06/2015
This is as much a treat for the prose style as it is for the hallucinatory detail.<br/><br/>The edition I received from the library (dating from the 1890s!) is in two parts. The first is the 'Confessions' as shown in the title, and is split into three further parts - a biographical sketch of the author's life, and The Pleasures and Pains of Opium, respectively. His descriptions are long-winded and evocative. Time and space slow down, and he felt lifted up to a supreme pleasure, where all pain was gone.<br/><br/>Then once the drug wears off, you spend all night wishing you want to die and your body rebels against you. But I'll let de Quincey describe that better. <br/><br/>The second part of the book is called Suspiria de Profundis, or 'Sighs from the Depths'. This is a fragmentary, yet brilliant series of descriptions on the hallucinations he saw and heard while under the influence. Roman goddesses, sunken cities, German mountaintops, human memory, and so forth. A dark fragmented phantasm.<br/><br/>Don't do drugs kids! Opium was perfectly legal when the author took it, and all of its cousins - like heroin - are still too dangerous. Unless you're Vollmann, who can shrug off cocaine like the rest of us drink coffee (so I hear). But you're not. Seriously, don't do it. I beg you. It'll wreck us lesser mortals and shatter our minds and mortal bodies. Don't even do it for the chance that you'll produce some real neat art for it. It's not worth it. The good creativity and emotion will fade away into a broken memory soon enough and all that's left of you is dying.
Review by AlCracka
16/06/2015
"First published in 1821, it paved the way for later generations of literary drug users, from Baudelaire to Burroughs." Whee!<br/><br/>While this is maybe not indispensable, it's also not more than 100 pages, so it gets five stars based on its ratio of awesomeness vs. time commitment. And it <i>is</i> pretty awesome. De Quincey is funny and weird and literate, and the roots of all kinds of drug stories - from those quoted above to Trainspotting and, oh, A Million Little Pieces - are clearly visible.<br/><br/>In one of those proud yet crushing moments where you realize that thought you were so psyched about of has, as Public Enemy said, been thought before: I've always thought that people get more honest when they drink, so if that nice new friend of yours gets weirdly mean and creepy when he's drunk, you might want to think twice about inviting him to your wedding. And here's de Quincey: "Most men are disguised by sobriety; and it is when they are drinking that men display themselves in their true complexion of character."<br/><br/>That's from page 46, in the middle of an absolutely glorious comparison of the effects of wine and opium. One of my favorite passages because, unlike opium, I'm quite familiar with the effects of wine. "The pleasure of wine is always mounting, and tending to a crisis, after which it declines." Really, there's no sense quoting more of it; the whole two pages is great.<br/><br/>If you're interested in drugs, or wine, or the idea of a counter culture, or pretty writing, or the history of opium and its significant effect on the world, this is worth an afternoon.
Review by allyshaw
16/06/2015
"...here was the secret of happiness, about which philosophers had disputed for so many ages, at once discovered; happiness might now be bought for a penny, and carried in the waistcoat-pocket; portable ecstasies might be had corked up in a pint-bottle; and peace of mind could be sent down by the mail."<br/><br/>My favourite sentence of the book. <br/><br/>I pecked at this one, bored by most of it. Though, it was thrilling to find my home so unchanged-- Hounslow is still scary; most druggists are quite helpful and London can drive you to addiction.