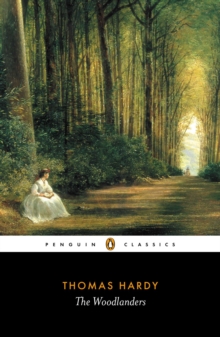 The Woodlanders
Paperback
Description
When country-girl Grace Melbury returns home from her middle-class school she feels she has risen above her suitor, the simple woodsman Giles Winterborne.
Though marriage had been discussed between her and Giles, Grace finds herself captivated by Dr Edred Fitzpiers, a sophisticated newcomer to the area - a relationship that is encouraged by her socially ambitious father.
Hardy's novel of betrayal, disillusionment and moral compromise depicts a secluded community coming to terms with the disastrous impact of outside influences. And in his portrayal of Giles Winterborne, Hardy shows a man who responds deeply to the forces of the natural world, thought they ultimately betray him.
Other Formats
Paperback from £2.50
Hardback from £8.59
EPUB from £0.99
PDF from £1.94
Free Home Delivery
on all orders
Pick up orders
from local bookshops
Reviews
Showing 1 - 4 of 4 reviews.
Review by dsc73277
16/06/2015
The Woodlanders is only the third Thomas Hardy novel I have read, the preceeding two being Far From the Madding Crowd and Tess. I am also aware of the story of the Mayor of Casterbridge and Jude the Obscure thanks to television and radio adaptations. Whilst I would probably say that I enjoying the Madding Crowd more, The Woodlanders is the next most satisfying of the Hardy novels that I have come into contact with thus far. I certainly preferred it to the incredibly bleak world of Tess. Not that anyone should expect The Woodlanders to be a laugh a minute, it is a Hardy novel after all, and he is a writer whose characters seem almost guaranteed to suffer.At first I found this novel quite difficult. Having mostly been reading fairly contemporary books recently, it was quite tough getting reaccustomed with the sort of lengthy, ponderous sentences that are such a typical feature of nineteenth century writing. The pace is quite slow at first too, and whilst it never turns in to a rapid thriller, the dramatic tension does increase considerably in the final of the three volumes.Hardy excels at depicting both the highs and lows of rural life in his time. As in the Madding Crowd, the more humble characters display the greatest ability to live moral lives, whereas their neighbours from slightly higher up the social ladder are more prone to go astray. My favourite character was the fairly marginal figure of Marty South, the pure and stoical young woman who cherishes an unrequited admiration for Giles Winterbourne, a simple man of modest means. I did not really warm to the other principle characters, the well-educated local beauty Grace Melbury, her father, and the doctor Fitzpiers, though I was nevertheless interested to see what fate Hardy had in store for them all.Students of literature will enjoy decoding the allegorical references and observing how Hardy anticipates features of twentieth century novels. Students of both literature and social history will share amusement at the incredibly tame references to marriage and relationships that could only be added in later revisions.
Review by Prop2gether
27/08/2015
It took three attempts to get into this novel (after loving the film version), but using Libravox as a "book on tape" worked. I thoroughly enjoyed this story of love gone wrong several times over this time around.
Review by mbmackay
27/08/2015
A rare failure to finish the book here. The introduction by Patricia Ingham reveals most of the plot, and as the plot has that common Victorian failing of being more than a little contrived, I struggled with the text. I have enjoyed Hardy in the past, and I expect to go back to this book some time in the future - when my memories of the details in the intro have fade. :)100 pages read March 2015
Review by eadieburke
27/01/2016
The novel reflects common Hardy themes: a rustic, evocative setting, poorly chosen marriage partners, unrequited love, social class mobility, and an unhappy, or at best equivocal, ending. As with most his other works, opportunities for fulfillment and happiness are forsaken or delayed. The plot was very credible and the characters were well developed. It had a very sad ending but very fitting for the circumstances. I would recommend this book if you have enjoyed some of this other writings.