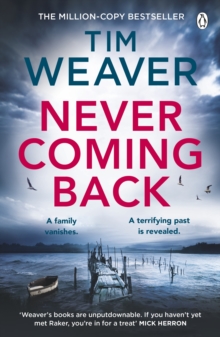 Never Coming Back : David Raker Missing Persons #4
Paperback
Description
Never Coming Back was a Richard and Judy Book Club pick and National Book Award Nominee.
Perfect for fans of Clare Mackintosh's I See You and Jo Nesbo's The Thirst.***A SECRET THAT WILL CHANGE LIVES FOREVERIt was supposed to be the start of a big night out.
But when Emily Kane arrives at her sister Carrie's house, she finds the front door unlocked and no one inside.
Dinner's cooking, the TV's on. Carrie, her husband and their two daughters are gone.When the police draw a blank, Emily asks missing persons investigator David Raker to find them.
It's clear someone doesn't want the family found.But as he gets closer to the truth, Raker begins to uncover evidence of a sinister cover-up, spanning decades and costing countless lives. And worse, in trying to find Emily's missing family, he might just have made himself the next target . . .Praise for Tim Weaver:'I couldn't put it down' - Sun'Weaver's books get better each time - tense, complex, written with flair as well as care' - Guardian'Weaver has delivered another cracking crime thriller' - Daily Mail'The reader is educated as well as entertained, enthralled and intrigued.
David Raker is a most complex and engaging investigator, each case leaving its mark on his soul, and ours' Sunday Times bestselling author Liz Nugent
Information
Format: Paperback
Pages: 544 pages
Publisher: Penguin Books Ltd
Publication Date: 29/08/2013
Category: Crime & mystery
ISBN: 9780241954416
Free Home Delivery
on all orders
Pick up orders
from local bookshops
Reviews
Showing 1 - 5 of 6 reviews.
Previous | Next
Review by shizz
16/06/2015
Never Coming Back – Tim WeaverI must confess that when I started this latest Real Readers offering I started to get quite frustrated. There were too many time frame changes, too many different sets of characters and locations, the changes from first to third person, the change to italics, (was that because it was more important?) - I was ready to damn the book critically!!Boy, how wrong could I be? Once I got used to that style I couldn't put the book down. David Raker is unfamiliar to me as a character but I think I like him enough to read some more (apparently this is the fourth). The other characters had enough depth to elicit an emotion from me towards them. They were people rather than characters with a narrative function.The violence was chilling but the tension was supreme all the way through to the final dénouement. I felt almost scared in places. The writing was tight yet flowing. The clues were there some were obvious, others not so which is where you get such a buzz from a thriller. When you can't second-guess you know you have a good writer.I don't do spoilers but I did suspect the genesis of the cover up and I found the ending sentimental I try to avoid spoilers so I can't specify why but for me it was unrealistic and there was a point where it was predictable. However it would appeal to the 'happy enders' if they read that far? It was almost as if someone else had written the final few pages. But there is no such thing as perfection and I happily recommend this book to thriller lovers.I was thoroughly thrilled!!
Review by atticusfinch1048
16/06/2015
Tim Weaver's Never Coming Back finally brings him to the attention of all thriller readers. This book was tense in places, complex, a little horrific at times but with a couple of surprising twists at the end. It is so well written that as you read through the pages the tension builds inside you so that you get anxious for the safety of the hero of the novel David Raker.This is the fourth book in the David Raker series and it opens with him when he is a mere journalist and it on assignment in Los Vegas the book goes full circle and ends in Los Vegas. The main body of the book though is based in Devon, the names of some places have been changed but it is clear it is around the Start Bay area.The bodies start piling up with the start being a frozen body on a beach in Devon which we learn will drive the whole of the book. There is also a reference to the Holocaust and to one of the bloodiest Nazi murder factories in the East, Sobibor Extermination Camp with a nod to the ratlines, and how many Nazis escaped justice.Raker manages to endanger his own life when an ex-girlfriend visits him at home and asks for his help in finding her family who have just disappeared from their home and there is no sign or sight of them. Other than the occasional view and those that saw them end up dead.The body count increases throughout the book including the staging of one murder scene that comes back to bite Raker when he should have gone with his gut instinct. Unlike a lot of thrillers Raker is not a defective detective but an exjournalist who has a specialism in finding those who are lost.This is a fast paced thriller that will elevate Tim Weaver to the high echelons of thriller writers, that is a pleasure to read that draws you in until the last sentence when you can say I wasn't expecting that! This is a book that is crying out to be read and Raker is a guy needing some love.
Review by SF-W
16/06/2015
This is the first Tim Weaver book that I have read but not my first thriller – however, this is poles apart from any other thriller that I've ever read – this book is in the top tier of a whole league of its own - this, people, is a THRILLER!!! It should come with an advisory notice on the front cover warning potential readers of the effects on their daily routines if they open this book – of the unanswered telephone calls, the unnoticed text messages, the unwashed dishes, families being left to fend for themselves at mealtimes… all because you will not be able to put this book down!The tenacious and quick-witted investigator of missing people, David Raker, is the central character of this book. The story, set in both Devon and Las Vegas, revolves around the complete disappearance without trace of Paul and Carrie Ling, and their two daughters. The fact that they literally drop right off the radar is the intriguing hook that grabs the reader right from the very start, before long the plot deeply immerses you inside the mystery and drama as it unfolds and it won't let you up for air! This well written story never relinquishes its tension or its complexity until the very last full stop – its plot, violent at times, is extremely convoluted and with multiple twists at the end but never loses its credibility or believability. I was absolutely exhausted by the end of it!! Pick this book up – you won't regret it! Story telling at its very best!
Review by tina1969
16/06/2015
David Raker finds people. He is called in by an old girlfriend to help find her missing sister and her family who just disappeared into thin air.This is the first David Raker book which I have read, but it is the fourth in the series. Again my pet hate is not reading books in order. It didn't make that much difference but I did feel that the book jumped about a bit at the beginning and I think that if I had read the others first it may have made a bit more sense at the start. Saying that the story did all come together at the end.This book was a really good thriller. There was plenty going on and plenty to keep the reader guessing and there are clues along the way, but as a reader I didn't spot them. Every page towards the end throws something different and a new twist to keep the reader on the edge of their seat.This is the sort of book that I like. It's fourth in a series and if this book is as good as what the first three are then I will seek them out. David is also a likeable character and somebody that I feel I could follow in further works.Overall a very engaging thriller with plenty to keep the reader interested till the last page.
Review by Karen-uk
16/06/2015
Tim Weaver is a new author to me however when this latest book (no. 4) in the David Raker series came through the door, I was intrigued. The storyline is one that immediately grabs your attention – a whole family suddenly disappears from their home and apparently no-one knows where they are – the dinner is left cooking on the stove, wallets and phones are left behind and the dog is left wandering around the house. The advance reading copy is a whopper of a book – it's over 500 pages but it doesn't drag at all. The story is well paced with plot twists throughout which made me keen to keep turning the pages. David Raker is an investigator who looks for missing people. He becomes involved in this case because an ex-girlfriend, Emily, asks him to look into the disappearance of her sister's family. They have been missing for 10 months and despite a couple of earlier witness sightings the police have been unable to solve the case. Raker himself is not in the best of places. He is still recovering from a near fatal attack and has relocated to his late parent's cottage in Devon to recuperate. However he agrees to find out what he can for Emily. Running alongside is a separate strand concerning a body found washed up on a nearby beach. Although it is at first unclear as to the relevance, all does become clear later in the book.The action takes place in Devon and in Las Vegas. The story initially starts in December 2007 in Las Vegas before quickly moving back to Devon and to November 2012. At first I found this very confusing and couldn't understand how this brief chapter connected to the story. Stick with it though because the story that follows is a real rollercoaster of a read with twists and turns that I didn't see coming.Our protagonist, David Raker is a well-developed character with a history and seems to be a man of integrity. He is not a superhero but if you were in a hole, he is the sort of person you'd want to help you out of it. I hadn't read any of the previous books in the series so I wasn't aware of his back story but that didn't matter. This book can happily be read as a standalone without the reading feeling disadvantaged. There are many characters in the book (as well as dead bodies!) and the plotline does become complex. The timeframe slips between the past and present however it's easy to distinguish as the 'past' chapters are in a different font. These chapters are vital to the story as piece by piece the reader learns more about the reasons behind the family's disappearance. I had my doubts about the ending but on the whole I found this to be a tension filled, gripping read and will now be looking out for the previous books in the series.My thanks to Real Readers for the review copy in exchange for an honest opinion.
Also in the David Raker Missing Persons series | View all