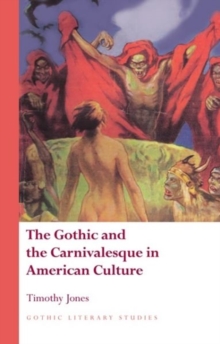 The Gothic and the Carnivalesque in American Culture
Hardback
Description
The Gothic and the Carnivalesque in American Culture offers a new account of the American Gothic.
Gothic studies, the field that explores horrid and frightful narratives, usually describes the genre as exploring genuine historical fears, crises and traumas, yet this does not account for the ways in which the genre is often a source of wicked delight as much as it is of horror - its audiences laugh as often as they shriek.
This book traces the carnivalesque tradition in the American Gothic from the nineteenth into the late twentieth century.
It discusses the festivals offered by Poe, Hawthorne and Irving; the celebrations of wickedness offered by the Weird Tales writers, including H.
P. Lovecraft, Robert E. Howard and Clark Ashton Smith; the curious aura attached to Ray Bradbury's stories; the way in which hosted horrors in comics and on television in the 1950s and 1960s taught their mass audiences how to read the genre; Stephen King's nurturing of a new audience for Gothic carnivals in the 1970s and 1980s; and the confluence of Gothic story and Goth subculture in the 1990s. Introduction: BallyhooChapter One: Theory, Practice and Gothic CarnivalChapter Two: `The Delight of its Horror' - Poe's Carnivals and the Nineteenth-Century American GothicChapter Three: Weird Tales and Pulp SubjunctivityChapter Four: Ray Bradbury and the October AuraChapter Five: Hosted Horrors of the 1950s and 1960sChapter Six: Stephen King, Affect and the Real Limits of Gothic PracticeChapter Seven: Every Day is Halloween - Goth and the GothicConclusion: Waiting for the Great Pumpkin
Information
Format: Hardback
Pages: 288 pages, No
Publisher: University of Wales Press
Publication Date: 15/05/2015
ISBN: 9781783161928
Free Home Delivery
on all orders
Pick up orders
from local bookshops