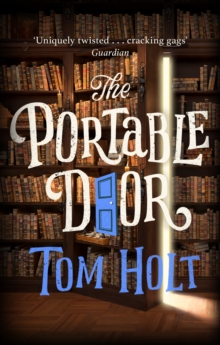 The Portable Door
Paperback
Description
Starting a new job is always stressful (especially when you don't particularly want one), but when Paul Carpenter arrives at the office of J.
W. Wells he has no idea what trouble lies in store. Because he is about to discover that the apparently respectable establishment now paying his salary is in fact a front for a deeply sinister organisation that has a mighty peculiar agenda.
It seems that half the time his bosses are away with the fairies.
But they're not, of course.They're away with the goblins.Mister Tom Holt, Master of the Comic Fantasy Novel, cordially invites you to join him in his world of madness by reading his next hilarious masterpiece.
Information
Format: Paperback
Pages: 416 pages
Publisher: Little, Brown Book Group
Publication Date: 05/02/2004
Category: Fantasy
ISBN: 9781841492087
Free Home Delivery
on all orders
Pick up orders
from local bookshops
Reviews
Showing 1 - 5 of 6 reviews.
Previous | Next
Review by BoPeep
16/06/2015
First in the Paul Carpenter trilogy (will there be more?). Your average everyday tale of a man who needs a job and winds up working for goblins, wizards, heroes, and a very grim accountant. Holt rarely fails.
Review by Fluffyblue
16/06/2015
This book surprised me. I'd never read any Tom Holt before, and I'm not sure why I picked this up.It was funny, well written and the characters were fabulous. It made me laugh out loud on more than one occasion.
Review by holidayscotland
16/06/2015
Out of all the Tom holt books I have read I thought this was the best.I Like books where the hero is a bit of a twerp.Zany, exciting, funny and good natured.I would definitely recommend.
Review by lorax
16/06/2015
Paul Carpenter is a hapless loser very much in the tradition of Arthur Dent, the type of man who, when confronted with a sword in a stone, doesn't even consider for an instant trying to pull it out. For the first few chapters his haplessness is less sympathetic than Dent's; after all, Arthur Dent did have the world blown up out from under him, which tends to be a bit disorienting, while Paul initially has no such excuse; his main challenge is dealing with a new job at J.W. Wells & Co.Before long, of course, Paul realizes that the mind-numbing tedium of his spreadsheet-sorting junior clerk's job is only a facade, and that the real business of J.W. Wells is very odd indeed, and that there's a reason why the receptionist seems to be somebody different every day. Meanwhile, he's falling in love with his prickly co-worker Sophie, who seems to have no interest in him whatsoever.The book is a bit slow getting started. Give it at least three chapters if you're dubious; that's when the weirdness starts. While it's billed as humorous, it's more in the "amusing absurd" vein than laugh-out-loud; it was certainly entertaining.
Review by isabelx
16/06/2015
The best comic fantasy novel that I've read recently. It works well as a fantasy rather than just being a series of jokes strung together.