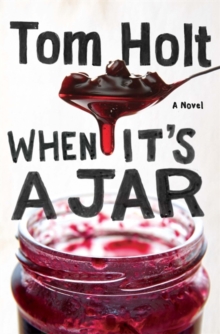 Description
'Uniquely twisted...cracking gags...' - The Guardian (UK)'Wacky humor bubbles through the polished narrative...
Holt doesn't skimp on the flashes of brilliance.' - SFXMaurice has just killed a dragon with a breadknife. And had his destiny foretold . . . and had his true love spirited away. That's precisely the sort of stuff that'd bring out the latent heroism in anyone.
Unfortunately, Maurice is pretty sure he hasn't got any latent heroism. Meanwhile, a man wakes up in a jar in a different kind of pickle (figuratively speaking). He can't get out, of course, but neither can he remember his name, or what gravity is, or what those things on the ends on his legs are called . . . and every time he starts working it all out, someone makes him forget again.
Forget everything. Only one thing might help him. The answer to the most baffling question of all. WHEN IS A DOOR NOT A DOOR?An absurdly witty novel of alternate universes and very unlikely heroes from one of Britain's best-loved comic writers - perfect for fans of Douglas Adams and Terry PratchettBooks by Tom Holt: Walled Orchard Series Goatsong The Walled Orchard J.W.
Wells & Co. Series The Portable Door In Your Dreams Earth, Air, Fire and Custard You Don't Have to Be Evil to Work Here, But It Helps The Better Mousetrap May Contain Traces of Magic Life, Liberty and the Pursuit of Sausages YouSpace Series Doughnut When It's A Jar The Outsorcerer's Apprentice The Good, the Bad and the Smug Novels Expecting Someone Taller Who's Afraid of Beowulf Flying Dutch Ye Gods!
Overtime Here Comes the Sun Grailblazers Faust Among Equals Odds and Gods Djinn Rummy My Hero Paint your Dragon Open Sesame Wish you Were Here Alexander at World's End Only Human Snow White and the Seven Samurai Olympiad Valhalla Nothing But Blue Skies Falling SidewaysLittle PeopleSong for NeroMeadowlandBarkingBlonde BombshellThe Management Style of the Supreme BeingsAn Orc on the Wild Side
Information
Format:Paperback / softback
Pages:384 pages
Publisher:Little, Brown Book Group
Publication Date:17/12/2013
Category:
ISBN:9781841497822