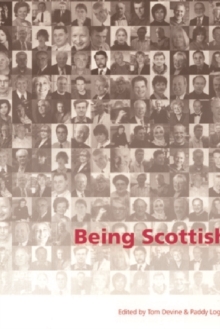 Being Scottish : Personal Reflections on Scottish Identity Today
Paperback
Description
The question 'who are we?' continues to perplex many Scots today. The 100 short essays in this book help to expand the debate and provide at least some of the answers.
They offer an opportunity to penetrate behind the statistical surveys and explore the rich complexity of changing identity from a varied range of opinion.
The collection includes the views of people at the centre of things as well as those at the margins of society, the famous as well as the not so well known, the authoritative and mainstream as well as the idiosyncratic.
It also contains a few views 'from the outside', from North America, Europe and elsewhere.
It examines the concept and experience of being Scottish at this time in history and assesses its relevance, strengths, advantages and weaknesses.
It seeks to discover whether there is a special something which makes the Scottish distinctive and immediately recognisable and, if so, attempts to describe it.
In short it is a snapshot of Scottish identity or, as seems to the case, the myriad Scottish identities that exist today. Contemporary events and developments in the British Isles and the world provide the general political and social context of this collection.
These include: *The state of the Union *Devolution *The rise of English nationalism and the implications for Scotland *The debate about future British political and economic sovereignty and its relevance to Scotland *The lingering after-effects of the loss of Empire with its resultant crisis of identity for Scotland, a nation which played a key role in the imperial project *The new global world order based on the USA-declared war against terrorism in the aftermath of the events of 11 September 2001 However the contributors succeed in going beyond the social and political context and explore above all what it means personally to be Scottish.
The reader may be surprised at the insights contained in this book.
Some contributors delve into their personal histories or their sense of place to give meaning to their identities.
Others deal in political and cultural realities, and many rely on storytelling, humour and lyricism to approach a tentative sense of identity upwind. Honesty, courage and humour are not lacking in these stories, which give us the chance to reflect on the experience of being Scottish in the opening years of the 21st century.
Includes contributions from: *Leila Aboulela *Craig Brown *Tam Dalyell *Isla Dewar *Donald Findlay *Tom Hunter *Charles Kennedy *Phyllida Law *Helen Liddell *Bridget McConnell *Jack McConnell *Margo MacDonald *Sheila McLean *David McLetchie *Bashir Maan *Hugh Pennington *Susan Rice *Alex Salmond *T.
C. Smout *David Steel *John Swinney *David Steel *Gregor Townsend *Jim Wallace *Irvine Welsh
Information
Format: Paperback
Pages: 300 pages, 100 illus
Publisher: Edinburgh University Press
Publication Date: 29/07/2002
Category: Autobiography: general
ISBN: 9781902930367
Free Home Delivery
on all orders
Pick up orders
from local bookshops