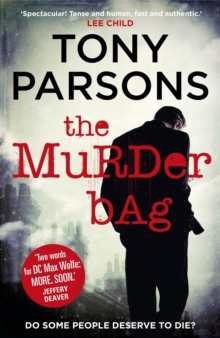 The Murder Bag : (DC Max Wolfe)
Hardback
Description
The gripping first novel in an explosive new crime series by Tony Parsons, bestselling author of Man and Boy.
If you like crime-novels by Ian Rankin and Peter James, you will love this. Twenty years ago seven rich, privileged students became friends at their exclusive private school, Potter's Field.
Now they have started dying in the most violent way imaginable. Detective Max Wolfe has recently arrived in the Homicide division of London's West End Central, 27 Savile Row. Soon he is following the bloody trail from the backstreets and bright lights of the city, to the darkest corners of the internet and all the way to the corridors of power. As the bodies pile up, Max finds the killer's reach getting closer to everything - and everyone - he loves.
Soon he is fighting not only for justice, but for his own life ...
Information
Format: Hardback
Pages: 384 pages
Publisher: Cornerstone
Publication Date: 08/05/2014
Category: Crime & mystery
ISBN: 9781780892337
Other Formats
Paperback from £7.09
EPUB from £3.99
Free Home Delivery
on all orders
Pick up orders
from local bookshops
Reviews
Showing 1 - 3 of 3 reviews.
Review by the.ken.petersen
16/06/2015
As one would expect from Tony Parsons, this is a well written book. It is the first in a planned series of detective novels featuring DC Wolfe and will be so easy to translate into a television series that I expect the main companies are in negotiations as I write.First novels in a series can be light weight affairs with introductions to the main characters taking half the output: not this one. Parsons borrows a technique of which I first became aware in a James Bond film, that is the mini-adventure tacked onto the beginning: six pages of prologue gives us a pretty fair idea of our main character, DC Wolfe, before the story proper begins. Wolfe can then bloom into quite a well rounded individual within his first book, without it impinging on the plot flow.The story is of a series of killings somehow connected to an event which occurred many years previously at a public school. The problem is that, even when the prospective victims know that they are in line for a savage death, they understand the school code and do not "rat" on their chums. The tale unwinds at a good pace and a regular supply of gory corpses should further entice television moguls to drool.Unfortunately, I found the denouement a little disappointing. Parsons had expertly lead us down the role of suspecting everyone in turn and, I'll confess that I did not see the final explanation until it was provided, however, our author used one of the frowned upon means of hiding the killer's identity from the reader. I would like to explain in greater detail, but I cannot see how to so do without revealing the final twist and hence, spoiling the plot.Despite this niggle, the book was a pleasing read and I shall await 2015 eagerly (the promised date of Wolfe's return).
Review by chive
16/06/2015
This is a very average write by numbers police procedural with the added mawkish irritation of his previous books. I think it's meant to be the start of a trilogy. I doubt I'll read the others.
Review by Eyejaybee
09/10/2015
Tony Parsons was one of my heroes when I was a teenager in the 1970s. Along with Julie Burchill, whom he subsequently married, he was the high priest of rock journalism, delivering his weekly sermons through the columns of the New Musical Express, spreading word of the exciting new world of punk and new wave. He moved on from the rock pres towards mainstream journalism, and has had a weekly column in one national newspaper or another ever since. During that time he published various novels, though it was only with 'Man and Boy' that he achieved critical and commercial success.<br/><br/>As it happens, I didn't like 'Man and Boy'. I found it mawkish and rather nauseating, and I was, as a consequence, reluctant to try another of his other books. I did, however, hear a number of people whose judgement I generally trust praising 'The Murder Bag' and, seeing it on sale quite cheaply, I decided to take a punt on it.<br/><br/>That was a fortuitous choice. 'The Murder Bag' is a fantastic police procedural crime novel. The principal protagonist is Detective Constable Max Wolfe, formally on the Anti-Terrorist Squad (with whom he won the Queen's Police Medal). He is now part of a special murder investigation squad, based in the heart of London in Savile Row. On his first day in that role he is called to the scene of the particularly brutal murder of a merchant banker. The next day a homeless man is killed in exactly the same way. Further investigation shows firstly that the homeless man had come from a privileged background, and secondly that he had been at school with the first victim. The school in question is Potter's Field, a private boys school with exorbitant fees which numbers a selection of senior military and political figures among its alumni.<br/><br/>Max Wolfe is a very well drawn character - flawed, though not to the clichéd extent that now seems obligatory among TV detectives, and immensely plausible. The plot is soundly constructed too - sufficiently complex to keep the reader guessing, but never to the point of requiring a suspension of disbelief. Parson's prose is well tuned, too, racing along with the economy of expression that one would expect from a professional journalist.<br/><br/>Apparently DC Wolfe will be back in another book next year, and I am already looking forward to it.
Also in the DC Max Wolfe series | View all