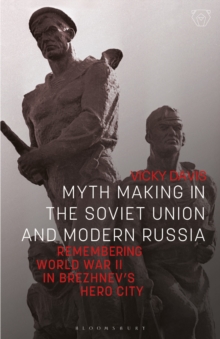 Myth Making in the Soviet Union and Modern Russia : Remembering World War II in Brezhnev's Hero City
Paperback / softback
Description
The 1943 battle to free the Soviet Black Sea port of Novorossiisk from German occupation was fought from the beach head of Malaia zemlia, where the young Colonel Leonid Brezhnev saw action.
Despite widespread scepticism of the state's appropriation and inflation of this historical event, the heroes of the campaign are still commemorated in Novorossiisk today by an amalgam of memoir, monuments and ritual.
Through the prism of this provincial Russian town, Vicky Davis sheds light on the character of Brezhnev as perceived by his people, and on the process of memory for the ordinary Russian citizen.
Davis analyses the construction and propagation of the local war myth to link the individual citizens of Novorossiisk with evolving state policy since World War II and examines the resultant social and political connotations.
Her compelling new interdisciplinary evidence reveals the complexity of myth and memory, challenging existing assumptions to show that there is still scope for the local community - and even the individual - in memory construction in an authoritarian environment.
This book represents a much-needed departure from the study of myth and memory in larger cities of the former Soviet Union, adding nuance to the existing portrait of Brezhnev and demonstrating the continued importance of war memory in Russia today.
Information
Format: Paperback / softback
Pages: 368 pages, 35 bw illus
Publisher: Bloomsbury Publishing PLC
Publication Date: 23/01/2020
ISBN: 9780755602735
Also in the Library of Modern Russia series | View all