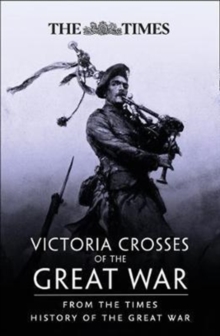 Victoria Crosses of the Great War : From the Times History of the First World War
Paperback
Description
The incredible and uplifting stories surrounding the recipients of this highest of honours as described by The Times is republished in this highly illustrated volume.
Photographs, maps and accounts are shown in detail. When war was declared in August 1914 The Times under its chief editor, Wickham Steed, embarked on an extraordinary project.
As well as authoritative daily war reports in the paper itself, a separate weekly supplement would be produced, with 40 extra, illustrated pages of in-depth analysis.
The result was The Times History of the War, collected into 22 massive volumes in 1921: 11,000 pages; 6 million words; thousands of photographs, graphics, illustrations and maps. The pages detailing The Victoria Cross have been extracted from those volumes to produce this detailed story of the heroic tales surrounding the recipients of this most famous of honours 100 years ago.
Information
Format: Paperback
Pages: 304 pages, 269 b/w illus
Publisher: HarperCollins Publishers
Publication Date: 01/01/2020
Category: General & world history
ISBN: 9780008285494