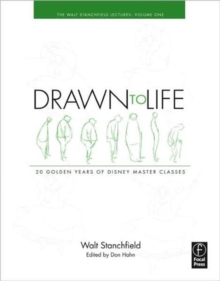 Drawn to Life: 20 Golden Years of Disney Master Classes : Volume 1: The Walt Stanchfield Lectures
Paperback
Description
Discover the lessons that helped bring about a new golden age of Disney animation! Published for the first time ever, Drawn to Life is a two volume collection of the legendary lectures from long-time Disney animator Walt Stanchfield.
For over twenty years, Walt helped breathe life into the new golden age of animation with these teachings at the Walt Disney Animation Studios and influenced such talented artists as Tim Burton, Brad Bird, Glen Keane, and John Lasseter.
These writings represent the quintessential refresher for fine artists and film professionals, and it is a vital tutorial for students who are now poised to be part of another new generation in the art form. Written by Walt Stanchfield (1919-2000), who began work for the Walt Disney Studios in the 1950s.
His work can be seen in films like Sleeping Beauty, The Jungle Book, 101 Dalmatians, and Peter Pan. Edited by Academy Award(R)-nominated producer Don Hahn, who has prduced such classic Disney films as Beauty and the Beast and The Lion King.
Information
Format: Paperback
Pages: 422 pages, Approx. 640 illustrations (650 in full color)
Publisher: Taylor & Francis Ltd
Publication Date: 01/03/2009
Category: Comic book & cartoon art
ISBN: 9780240810966
Other Formats
EPUB from £16.19
PDF from £16.19
Free Home Delivery
on all orders
Pick up orders
from local bookshops
Reviews
Showing 1 - 2 of 2 reviews.
Review by biblioadonis
16/06/2015
When I received my review copies in the mail (it is a two-volume set), I was very excited to get a closer look at them. I reviewed Don Hahn's previous work, The Alchemy of Animation, and thoroughly enjoyed it. With Don's history of award-winning animation, it is very obvious that he has a passion for animation and for mentoring new animators.Walt Stanchfield (1919-2000) spent the bulk of his professional career at the Walt Disney Studios. Before Disney, he spent time at the Charles Mintz Studio and the Walter Lantz Studio. At Disney, he had a hand in every animated feature from The Adventures of Ichabod and Mr. Toad to The Great Mouse Detective. In the 1970s, Stanchfield and Eric Larson started a training program for the new breed of animators: Bird, Bluth, Clements, Dejas, Keane, Lasseter, Musker and many more of Disney's best modern animators. Stanchfield began compiling his notes from the weekly classes in the 1980s, these handwritten notes were passed among the animators that created the Disney films of the second Golden Age (The Little Mermaid - The Lion King). Don and his talented team (including Dee Stanchfield) transcribed over a thousand pages of notes. Included is illustrative artwork from Stanchfield and renowned Disney artists from the past 80 years.I am not an animator. If left to my own devices, I can muster a passing face or a simple drawing of a still life--a very still life. My review of this book is based on my love of animated films and the Walt Disney Company. At a cursory glance, this work is a must for any serious animation student. Once you delve deeper into the individual sections, you realize that you are learning about the process of animation and the details of bringing lines and drawings to life. You are also discovering an artist as he shares a lifetime of experiences with students and artistic disciples.The images of the pages I have posted are how the book is represented. Sketches and drawings permeate the text and bring the words to life. You can see the techniques jump from the page and a true sense is related on how animation works--and why Disney animation has always worked so well. The section headings are representative of the animation process: Basics, Gesture, Seeing, Analysis, Creativity and Thinking. Not only will you gain invaluable artistic skill from following Stanchfield's lessons, but you will learn the intricacies of emotion and life in the animated form. Spending any time with this book will give you a deeper appreciation of animation as an art form.In the foreword, Don sums up the work perfectly: Drawn To Life is one of the strongest primers on animation ever written. The material spares no detail on the craft of animation, but also digs deep into the artistic roots of the medium.I reiterate--this book is a must for animators of any caliber.This book reminds me of the Tao of Jeet Kune Do by Bruce Lee. It is an incredible work for martial art students to study and learn new techniques to deepen their skills. It is also a valuable work for fans of Bruce Lee and readers interested in broadening their understanding of the human body and what can be attained.Drawn To Life is a master work on animation. Imagine sitting at the feet of a master as he pours forth on animation, life and philosophy. That Hahn has presented Stanchfield's work to us--and that we can hold it in our hands--is amazing. This is a two-volume set that should be on every animator's shelf, dog-eared, thumbed-through and within reach for serious study and joyful glimpses of life.
Review by CaptElaine
16/06/2015
A treasure trove of drawing tips and techniques...