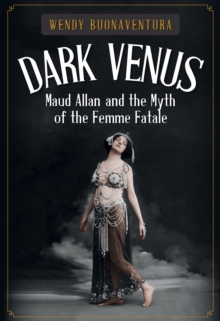 Dark Venus : Maud Allan and the Myth of the Femme Fatale
Hardback
Description
How the Dance of the Seven Veils led to `the libel case of the century'.
Maud Allan's rebellious life is set against an examination of the changing lives of women during a crucial period in the history of feminism. Dark Venus considers the late 19th- and early 20th-century obsession with woman as femme fatale.
It looks at beliefs about women's bodies and sexuality, and how men have responded to the fear and thrill of dangerous women.
One such belief was that women are feral creatures in need of mental and physical constraints.
Dancer Maud Allan came to embody the era's dominant image of the dangerous and corrupting female.
In 1918 she brought a libel case against Noel Billing MP, who had accused her in print of lesbianism.
It seems almost incredible now, but there was a belief in some circles that women such as Maud relished the deaths of soldiers at the front, that they found it erotically charged; and that `New Women', by seeking male freedoms and trying to step away from their allotted role in society, were a cause of the war itself. This isn't just the story of Maud Allan but a close examination of attitudes to women in the Belle Epoque and beyond. `She was the Marilyn Monroe of my youth,' wrote art critic Sir Herbert Read of Allan.
But to others, she and her kind were a sinister fifth column.
Allan, fondling on stage the severed head of John the Baptist, hinted at elements of sexual perversion - sadism, necrophilia, incest - which were terrifying to Edwardian society.
The 19th-century belief that women were dangerous, their bodies badly designed and in need of control, finds echoes in modern women's lives.
As Wendy Buonaventura points out: `Here we are a hundred years later, with self-harm and eating disorders rife, painful, unnecessary cosmetic surgery acceptable, and injecting poisonous botox under our skin now considered just as normal as putting on make-up.' Maud Allan's story - and the idea of the femme fatale - is still relevant today.
Information
Format: Hardback
Pages: 296 pages, 10 Illustrations, unspecified
Publisher: Amberley Publishing
Publication Date: 15/08/2018
Category: 20th century history: c 1900 to c 2000
ISBN: 9781445677514
Free Home Delivery
on all orders
Pick up orders
from local bookshops
Also by Wendy Buonaventura