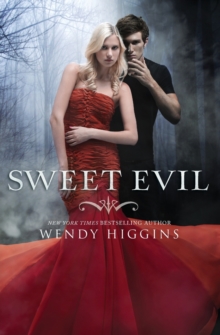 Description
Fans of Cassandra Clare's Mortal Instruments series will be drawn to Wendy Higgins's sexy, thrilling Sweet Evil series.What if there were teens whose lives literally depended on being bad influences?
This is the reality for sons and daughters of fallen angels.Tenderhearted Southern girl Anna Whitt was born with the sixth sense to see and feel emotions of other people.
She's aware of a struggle within herself, an inexplicable pull toward danger, but Anna, the ultimate good girl, has always had the advantage of her angel side to balance the darkness within.
It isn't until she turns sixteen and meets the alluring Kaidan Rowe that she discovers her terrifying heritage and her willpower is put to the test.
He's the boy your daddy warned you about. If only someone had warned Anna.Forced to face her destiny, will Anna embrace her halo or her horns?
Information
Format: Paperback
Pages: 464 pages
Publisher: HarperCollins Publishers Inc
Publication Date: 01/05/2012
ISBN: 9780062085610
Other Formats
EPUB from £3.49
eAudiobook MP3 from £18.19
Free Home Delivery
on all orders
Pick up orders
from local bookshops
Reviews
Showing 1 - 5 of 31 reviews.
Previous | Next
Review by BookWhisperer
16/06/2015
If I had to rate only the first half of this novel it would have ended up with a rating of three books. The transition into this story was a little rough and rocky. Once the heart of the story begins flowing it is easy to over the starting struggle. Anna and Kaidan pack an intense chemistry, but be forewarned this is not your typical romance. The interaction between these characters are very seldom, and the story rooms at a very slow and steady pace. The captivation of this story is solely due to the creative and intriguing story. Sweet Evil is the ultimate battle of light and dark, or good versus evil. Kaidan being resident bad boy it is easy to see the attraction, it is even easier to recognize that point where the feeling shift toward love with Kaidan's deep seeded desire toward goodness and protection of Anna. Once the story really begins to unravel, and questions find answers, the pace of the story really shifts and carries readers through to the end. Upon concluding it was easy to over look any reservations that I had when the storyline, and truly reflect on the story with adoration. I can not wait to see what more will come in the future for this series. With so much more of the story to tell it promises to be on heck of a ride. ~BookWhisperer Reviewer Jo~ 
Review by Bookswithbite
16/06/2015
There are many books I've had read through out my life time and adored. This book is one of them. I call them The Bomb Diggity. Sweet Evil left me speechless!One element in the book that really captured me are the world building and rules. I really love how out-of-the-box concepts on angels and demons is run. The combination of deadly sins, the demons that control each sin is great.I loved the world building of right and wrong. Everything is painted so clear for the reader to grasp and understand.The characters of this book were all nicely written. Anna is my kind of girl. I love her personality, her strength and her determination to do what needs to be done. She totally reminds me of myself. Like her, and everyone else in the world, I get tempted. What I do is squash it before it gets worse. I laughed at the line where Anna said she did the same thing. And her logic behind it is just what I think as well. Kaidan. I will warn you now that Kaidan is a bad boy that you will totally want to fall for and save. Believe when I say that when you first meet Kaiden your heart sky rockets!Sweet Evil is an stunning debut that will sweep you off your feet! Ms. Higgins skillfully writes a fresh story that every reader will enjoy. Sweet Evil pulse-tingling intense book that will leave you amazed.
Review by jennrenae
16/06/2015
One word. Amazing. Another word. Captivating. An even better word. Seductive. I was completely swept away by Sweet Evil--which is great because it's another book I can reread, but it sucks becauseI have to wait an entire year for the next one to come out! Grrrr. I absolutely love Wendy Higgins characters. They're original and fun, dark and sexy. Even though some people have complained that her Nephilim are the same old, same old, I completely disagree. I thought her idea of the Neph was completely original; I mean, in most books, the Neph are good--fighters of evil. But in Wendy Higgins book, they are the sowers of discord and chaos. I really enjoyed a different look at the children of angels. And the guys are to die for! Kaiden (pronounced Ky-den...even sounds sexy) is the son of the Demon of Lust. That one statement should tell you that this book is full of amazing romance---whether its real or fake! I won't say much because I don't want to spoil it, but I fell for Kaiden, and I am positive you will too!!! I really enjoyed Anna, too. She is the heroine of the book, the daughter of an angel and a demon. I really felt for her as she struggled to decide which nature to follow--her pure or sinful nature. And, it wasn't like she just snapped her fingers and said, "Oh I'm good and I can resist all temptation." She falls for temptation over and over again, which is real. I enjoyed seeing her grow, andI still enjoy seeing her struggle with her feelings for Kaiden. Overall, this is a MUST READ. One of the best books of 2012--I'm predicting!
Review by TValeros
16/06/2015
Oh. My. Goodness! Sweet Evil by Wendy Higgins ended way too soon! I believe 464 pages was insufficient and too short of a story. I so want more! I NEED more! Wendy Higgins has done a marvelous and enthralling job in writing this Debut! Sweet Evil is a smorgasbord of all things alluringly sinful! You will be wrapped up in its pages! Full of heart pounding romance, smexy Nephilims, action packed and enough humor to get you chuckling to yourself and having people looking at you like you're crazy! lolI don't like comparing books to each other, but I have to say that this book is on TOP of my Angel genre favorites!Anna is a goody-goody all around. She is consistent with her prayers and church attendance; she's loving, religious, and values her virtue. The worst that she has ever come to cursing is calling Kaidan a "male slut". gasp! But who can blame her considering that her mother was an angel, BUT she is also part fallen. She has also inherited her father's evil legacy as well as his sin. This is what makes Sweet evil unique, so interesting, and simply delicious! Kaidan (Kai) is your typical brooding bad boy Nephilim, but it is how he always sticks to his nature (evil) is what makes him more appealing as a character. He doesn't deter from who he is just because of hanging around Anna or by her influences. He stays true to his father's evil nature/sin making his character captivatingly complex and more intriguingly. You never know what his next actions will be. I get butterflies just thinking about him =) hahahaI truly love Sweet Evil by Wendy Higgins! I found myself wanting to read it over again right when I finished the last sentence of the last page! I definitely see Sweet Evil being one of the few books I will never tire in reading countless times, and always finding something new to love!A "GET OFF YOUR ARSE and GET IT" MUST READ!
Review by sszkutak
16/06/2015
Background: Anna is a teenage girl who has the ability to see other peoples emotions, which she has come to terms with, since her adoptive mother claims not to know much about them. While attending a concert with her best friend, Anna meets hot drummer who has a very interesting aura, and who asks her some strange questions about her background. A story of good versus evil and light versus dark, Anna must choose where she will stand.Review: Um wow! Read this. Higgins does a wonderful job pulling in her reader, starting off a little slow but building up the pace. Anna slowly learns about her heritage which has to do with angels and demons, and then she meets Kaiden (hottie!). The book is a whirlwind of questions, half-assed answers, lust, love, and good vs. evil. I have read quite a few books about Angels recently, and Higgins has been the best so far, she put a whole new spin on the Nephilium and how they can and cannot interact with humans. The characters are strong willed, witty and altogether fun.I had a great time reading this and could not put it down. Highly recommended for lovers of teen romance, series, angels, demons, and road trips ;)
Also in the Sweet Evil series | View all