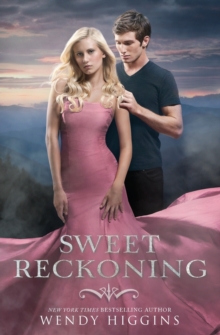 Sweet Reckoning
Paperback
Description
Fans of Cassandra Clare's Mortal Instruments series will be drawn to Wendy Higgins's sexy, thrilling Sweet Evil series.In Sweet Reckoning, the time has come for Anna, daughter of a guardian angel and a fallen one, to accept her fate as the chosen one.
She is destined to rid the earth of demons once and for all.
But as Anna and her Nephilim allies prepare for the evil brewing, the powerful Dukes use Anna's love for bad boy Kaidan Rowe against her, and her strength is put to the ultimate test.
How far will the two of them go to keep each other alive?
Will love conquer all in the final battle between good and evil?
Information
Format: Paperback
Pages: 400 pages
Publisher: HarperCollins Publishers Inc
Publication Date: 29/04/2014
Category: Family
ISBN: 9780062265975
Free Home Delivery
on all orders
Pick up orders
from local bookshops
Reviews
Showing 1 - 5 of 5 reviews.
Review by STACYatUFI
16/06/2015
There was not one moment in the final book of The Sweet Series that I did not enjoy. From beginning to end the characters showed us what they were made of and fought with everything they had. I want to leave this as spoiler free as possible so I will just pour out some of my main thoughts and feelings. The characters have grown SO much in just 3 books. The final book was the best of all. I loved how Anna and Kaidan are able to pull off their deception. I loved the way their relationship grew. I loved seeing the other cast of characters help and band together. The final showdown was nothing short of spectacular. It was everything I hoped it would be and there are a few shocking moments that left me with a huge grin on my face. There are a few heartbreaking moments in SWEET RECKONING but war never comes without loss.The very end of SWEET RECKONING truly melted my heart. The characters have all been through so much and seeing that very last glimpse of them years past their troubles was just amazing. It was definitely what I would consider a happily ever after.* This book was provided free of charge from Edelweiss in exchange for an honest review.
Review by JeracaFite
16/06/2015
I received this free eARC in exchange for my honest review.Wow. I loved this book. I loved this series! I didn't think it would get any better than the first two novels, but Wendy Higgins was able to finalize her book series with a huge bang!I love the way things were wrapped up. Not everything, but most to the reader's satisfaction, I think. There were so many parts that literally put tears in my eye. Thanksgiving dinner? Ginger with Patti at the end of the book? Marna's news that changed everything for her? The epilogue? All of it was really emotional. Some good, some bad, but it fit with how the book wrapped up. Even though my deepest wish throughout this series was to get dual or multiple viewpoints besides Anna's, I'm okay with just having Anna's thoughts throughout this series. However, I'm hoping that the author will write a couple of scenes through Kaidan's viewpoint... Like she did for the first two novels. I am so glad that I got this two months early! I very much enjoyed the story between Anna and Kaidan and all of their friends. I'm going to miss reading their story and the oh, so sexy scenes between those two (and believe me, there was some very hot scenes!). This is a great series and I think a lot of readers will fall into their story in a heartbeat! If you haven't experienced Kaidan's sin first hand, you are really missing out ;-)Will be looking for more by this author in the future!
Review by DarkFaerieTales
16/06/2015
Review courtesy of Dark Faerie TalesQuick & Dirty: This was a fantastic ending to an unbelievably good series. It is full of sexy romance, heart wrenching moments, and unforgettable characters. I would highly recommend this to anyone that is a fan of young adult paranormal books.Opening Sentence: Not a soul in the Vegas cocktail lounge had any idea demons were in their midst.The Review:I want to start off by saying that this is the third and final book in the series. I am going to try to make it as spoiler free as possible, but I suggest that if you haven't read the first two books (which you totally should because they are amazing) then you probably should skip this review.The final showdown is about to begin and sweet Anna Whitt is going to be right in the middle of it. With a group of Nephilim allies, Anna plans to rid the earth of all the evil Dukes once and for all. But the Dukes know about the prophecy and they suspect that Anna is the Nephilim that will be their downfall, so they do everything in their power to try and stop her.Anna goes on the run to protect those she loves and herself. But she's not sure who she can trust and the danger just keeps escalating. In the prophecy it states that Anna must remain pure to will the sword of righteousness and this becomes extremely hard when the Duke of Lust sent his son Kaidan Rowe to seduce her. Anna will do anything to protect Kaidan and if his father finds out he failed in having his way with Anna, the consequences will be deadly. Anna will have to decide what and who she is willing to risk to bring down the Dukes.I totally adored Anna from the very beginning and my love for her just grew more and more with each book. At first she is this very innocent and slightly naïve girl, but by the end of the series she becomes a force to be reckon with. She still has a heart made of gold and a very sweet personality, but she has grown a tough skin to help her cope with her situation. I really admired Anna's inner strength and determination. She never gives up even when things look dire. Anna will forever be one of my favorite book characters and I am so glad I got to read her story.Kaidan is seriously a sexy beast. I love his accent, his killer good looks, and just thinking about him makes my insides melt. I loved getting to see the more gentle side to Kai, because it just made him that much more irresistible. His love and devotion for Anna is beautiful and so heartwarming. The other thing I love about Kai is that he really isn't perfect, because he is the son of lust he has been forced to do a lot of things that he really shouldn't have. It has left scars that may never fully heal, but his broken side just makes him more endearing. Suffice to say, I am madly in love with Kai and he is one of my all time favorite book boyfriends.Sweet Reckoning was an extraordinary ending to a spectacular series. It has killer romance, loveable characters, and great action. I will admit that the first half of the book was a little slower than I maybe would have liked, but the rest of it totally made up for it. There were a few plot twists that I wasn't expecting, which really helped keep me interested through the whole book. I found that I couldn't stop smiling while reading this book because there were just so many adorable moments. But there were also some heart wrenching moments that really made me sad, so there was a good balance. Higgins also does sexy times so well, giving you just enough, but not too much since this is a young adult series. The only way I can describe the ending is that it was total perfection. It had just enough info to leave me satisfied, but it also left a few things up to your imagination, which I really liked. This series is probably my all time favorite young adult paranormal series. I am so sad to see it end, but it will always be one that I will re-read many times in the future. If you haven't read this series yet you honestly should, you will not regret it.Notable Scene:I kissed him one last time before rolling over and feeling his heat against my back as he reached around my waist and pulled me closer.As I drifted to sleep, from a state of semi consciousness I heard him whisper, "You're my dream. My only dream."FTC Advisory: HarperTeen provided me with a copy of Sweet Reckoning. No goody bags, sponsorships, "material connections," or bribes were exchanged for my review.
Review by Bookswithbite
16/06/2015
I can't believe this series is over. From the very first book I was hooked. And that it is over, I don't want to say goodbye.Plot: This story follows Anna and Kaiden and OMG!!! It's AWESOME, AMAZING, SO WORTHY OF READING. YOU MUST GO READ IT NOW. This plot moves at steady pace giving the reader plenty of time for the reader to feel all the emotions of love, anger, fear and most of all the determination to fight!!Love: *INSERT MAJOR SWOON HERE* You all, I can't even begin to tell you how much my heart fluttered! I adored every piece of Anna and Kaiden's relationship and loved how they endure to do things together. The played both of their parts perfectly, trusting one another till the end.Ending: I'm a sad panda. It's over and yet all I want to do is read the story all over again from start to finish. Listen, believe me when I say this story completely rocks!Sweet Reckoning is an brilliant and well written story. A satisfying ending that will forever stay in my mind, Sweet Reckoning is simply amazing. I'm honored to have read this series and looked forward to reading other future works by this author.
Review by forsakenfates
16/06/2015
Ahh! Amazing end to the series! And the epilogue, fantastic. I'm really going to miss reading about Anna, Kai, and their friends.
Also in the Sweet Evil series | View all