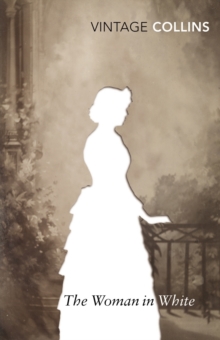 The Woman in White
Paperback
Description
Marian and her sister Laura live a quiet life under their uncle's guardianship until Laura's marriage to Sir Percival Glyde.
Sir Percival is a man of many secrets - is one of them connected to the strange appearances of a young woman dressed all in white? And what does his charismatic friend, Count Fosco, with his pet white mice running in and out of his brightly coloured waistcoat, have to do with it all?
Marian and the girls' drawing master, Walter, have to turn detective in order to work out what is going on, and to protect Laura from a fatal plot...
Information
Format: Paperback
Pages: 624 pages
Publisher: Vintage Publishing
Publication Date: 04/10/2007
Category: Classic fiction (pre c 1945)
ISBN: 9780099511243
Other Formats
Hardback from £8.35
Paperback from £2.50
CD-Audio from £16.25
EPUB from £0.99
Free Home Delivery
on all orders
Pick up orders
from local bookshops
Reviews
Showing 1 - 2 of 2 reviews.
Review by eleanor_eader
16/06/2015
This is one of those occasions when I wish I could complain <i>'Why, why did no one tell me about this wonderful book? Are you all cruel and inhuman?'</i>, but of course I <i>was</i> told – and told repeatedly – to read Collins' masterpiece of romance and chicanery, and everyone who recommended it was right in doing so and they all (seven, at the last count, not including written reviews) have my extremely tardy gratitude. The first time was almost twenty years ago, so I can't even claim I haven't had time to pick it up.On the bright side, how many times do we, as readers of 'classic' literature, find we've missed something so delightful, so engaging and suspenseful, that it shoots to the top of our lifetime favourites list, after twenty-some years of steady reading? I've read a lot of classics I've <i>liked</i> and even loved, since first devouring Austen and the Brontës, but nothing so belatedly, nor with such firm conviction from page one that I would relish every line. I swear I shivered with glee that first evening, about fifty pages in, when that particular resemblance was noticed.I won't claim that I 'couldn't put it down'. Actually, I put it down several times; I'm not sure that I ever 'left it', however. The particulars of the plot and the various characters' plight kept returning to me, and I would catch myself grinning in anticipation of returning to the story. The story is first narrated by a young drawing master –Walter Hartright – who has fallen in love with one of his two pupils, Laura, who is engaged to another man, after seeing a woman of her very likeness flitting about London in a state of high agitation one night. Her older sister, by far the more sensible of the pair, joins Hartright in a bit of amateur sleuthing while they attempt to discover the link between the Farlie family and the 'woman in white'. It is not long before the two women are embroiled in plot that leaves the reader thoroughly outraged on their behalf. Walter, meanwhile, has gone to sea in such a delightfully written romantic funk that I found myself feeling a very real approximation of thwarted love on the couple's behalf.It is Collin's ability to engage both the emotions and the mind that make this book so enjoyable... Collins writes the romance that begins this story with an enthusiasm that puts modern male writers to shame, but it is a romance in the other sense, as well; where the atmosphere is beautiful, even gothic, and the plot a shameless flirt. Each character is rich in personality, my favourite being Laura's uncle, Mr. Farlie, who's nerves provided both entertainment and frustration. The deplorable Count Fosco's affection for Miss Halcombe was a particularly sinister yet sympathetic touch. As with a lot of period literature, attitudes to women sometimes have to be passed over, but otherwise I'd have to read this book a second time to catch the flaws – while I was involved in the story, there simply were none.No one needs to nag me to pick up <i>The Moonstone</i>. It's sitting in my Amazon basket waiting my next splurge on books. I have learned my lesson.
Review by BONS
16/06/2015
ClassicA Victorian, gothic read with layers upon layers of prose. Written in the epistolary style and said to be the first true "mystery" story written. If one could push past the first chapter it becomes less flowery and within the first 70 pages your theme will reveal itself quite simply. There's Walter, the poor Artist, that has been given a once in a life time employment opportunity to work at a very wealthy estate. You see the mysterious woman in white soon revealed to have a connection to the place Walter will travel. The reader catches on quickly as to the mystery but the unfolding of the mystery is one event after another. Overlook the fainting feminine parts and you have a simple mystery as well as the first in history. 3*