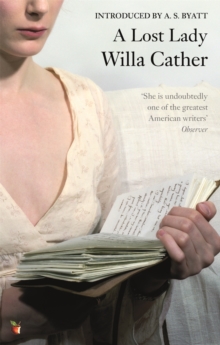 Description
Marian Forrester brings delight to her husband, an elderly railroad pioneer; to the small town of Sweet Water where they live; and to Niel Herbert, the young narrator of her story, who falls in love with her as a boy and later becomes her confidant. He witnesses this vibrant woman in all her contradictory facets: by turns faithless and steadfast, dazzling and pathetic, invincibly charming yet dangerously vulnerable to the men she charms.
All are bewitched by her charisma and grace - and all are ultimately betrayed. 'This classic has the striking economy of Hemingway, and is as poignant an elegy for the pioneer West as I have read.
The vivacious Marian Forrester stands as a romantic paean to the pioneer's reckless abandon, counterpointed by the narrator's prim decency' The Times
Information
Format: Paperback
Pages: 192 pages
Publisher: Little, Brown Book Group
Publication Date: 01/09/2006
ISBN: 9781844083732
Other Formats
Paperback / softback from £8.95
Paperback from £11.39
Free Home Delivery
on all orders
Pick up orders
from local bookshops
Reviews
Showing 1 - 5 of 6 reviews.
Previous | Next
Review by wendyrey
16/06/2015
An elegantly written novella set in the mid-west of the USA. A young woman is married to a much older man and her life and her loves and deceits are observed by a boy and later young man who is besotted by her and though he becomes aware of her faults and folies never loses his affection for her.
Review by klarusu
16/06/2015
This was my first foray into Willa Cather's writing and I found this a thoughtful and engaging novel that works on several levels. It is a character study of a woman at a time of change in the American west; a character study of America at the time of the railroad boom as it evolves alongside changing ideas of morality and social convention; a study of a complex web of relationships: friendship, love, loyalty rooted in respect, gratitude or feudal class-based tradition. I was left under no illusions, Cather was obviously a supporter of the old ways.Mrs Forrester, the 'Lost Lady' of the title is married to an ageing Captain in a small, backwoods town in the transitional America of the railroad era. This work deals with her complex relationship with her husband, her lovers and a youth of the town, Neils, who idolises the image of her and reveres her husband and his old fashioned morals and conventions. The new, crude manners of the upcoming generation contrasts with Neils' old-school outlook. Cather shows him as outdated, left behind by his compatriots. As you follow this trio of characters through to the death of the Captain, we see Neils' polarised idea of right and wrong in the light of the complexities of the emotional and moral ties that bind the other characters. Ultimately, Neils' innocence dies with Captain Forrester as his illusions are shattered by the realisation that all live with some kind or moral compromise and none of his idols fit into his succinct categories of morality. As for the 'Lady' herself, on the one hand, the reader is tempted to dislike her for her perceived disloyalty. However, ultimately it becomes clear that, in her own way, she was as loyal to her husband as others and that loyalty and faithfulness are not necessarily synonymous and in some ways this redeems her.It is an interesting and beautifully crafted novel and the characterisation is very competently realised. Criticism has been levelled at Cather's work, implying that she was over-reliant on her devotion to the old America of a time that was passing and that she refused to accept the newer world; that she was wasting her obvious talent by not turning it loose on the modern world. However, for me, it is exactly this viewpoint that makes the novel so poignant. I would certainly recommend this. It is a very engaging and fast read but definitely a pleasureable one too.
Review by Paulagraph
16/06/2015
prose is wonderful. couldn't quite get into the Mme Bovary on the frontier story nor the mourning for the Pioneer era & its titans.
Review by lucybrown
09/10/2015
This is, although less known, one of Cather's masterworks. I read too long ago to justice to it in a review. I remember it as a compelling and unflinching survey of a woman determined to live life onher own terms, one who is both admirable and tragic
Review by lucybrown
09/10/2015
This is, although less known, one of Cather's masterworks. I read too long ago to justice to it in a review. I remember it as a compelling and unflinching survey of a woman determined to live life onher own terms, one who is both admirable and tragic
Also in the Virago Modern Classics series | View all