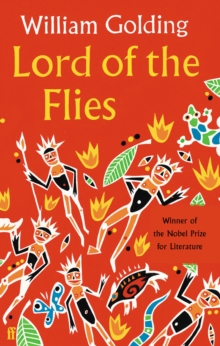 Lord of the Flies
Paperback
Description
A plane crashes on an uninhabited island and the only survivors, a group of schoolboys, assemble on the beach and wait to be rescued.
By day they inhabit a land of bright fantastic birds and dark blue seas, but at night their dreams are haunted by the image of a terrifying beast.In this, his first novel, William Golding gave the traditional adventure story an ironic, devastating twist.
The boys' delicate sense of order fades, and their childish fears are transformed into something deeper and more primitive.
Their games take on a horrible significance, and before long the well-behaved party of schoolboys has turned into a tribe of faceless, murderous savages.First published in 1954, Lord of the Flies is now recognized as a classic, one of the most celebrated of all modern novels.
Information
Format: Paperback
Pages: 240 pages
Publisher: Faber & Faber
Publication Date: 03/03/1997
ISBN: 9780571191475
Other Formats
Paperback from £5.99
CD-Audio from £9.39
EPUB from £7.19
CD-ROM from £17.89
Free Home Delivery
on all orders
Pick up orders
from local bookshops
Reviews
Showing 1 - 5 of 8 reviews.
Previous | Next
Review by Clurb
16/06/2015
Scary and savage and a very good read.
Review by wendyrey
16/06/2015
Well written and easy read but misogynist and extraordinarily christian.There is only one minor female character and the story is essentially a polemic of the concept of 'Original Sin' - that mankind is intrinsically evil. This view is so alien to mine that I simply find the whole book distasteful and extremely unpleasant.Why do they make young people read it. Loathsome book.
Review by john257hopper
16/06/2015
This is undoubtedly a powerful story, with a strong narrative drive, especially the first few and last few chapters. This was the first time I had read this novel since studying it for O level and one can appreciate it in different ways as an adult, particularly the cruciality of the threads that keep a community together, whether it be a small group of boys, a town or a whole country or even the whole world. Piggy's death was very shocking even though I obviously knew it was coming.I still don't really understand about Simon and the scenes about his relationship to the pig's head.A timeless classic.
Review by LibraryLou
16/06/2015
I didn't like this when I read it as a teenager, but when I reread it recently I really liked it, if you can like such a macabre story!
Review by soylentgreen23
16/06/2015
 I had passed this book in the library on countless occasions, and always made a mental point, soon forgotten, that I wanted to read it. Well, finally, I got around to it.I enjoyed this, the most famous of Golding's novels, though not as much as I had thought. Perhaps the characters are stuck in their time; perhaps the religious undertones don't work as well now as they used to; perhaps it was just me.Having said all of that, I do think that the Lord of the Flies is a well-written book, and certainly worth remembering. It's made me want to read more by Golding.