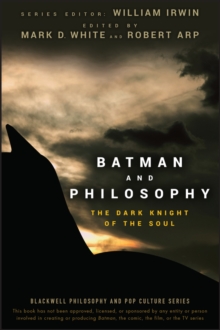 Batman and Philosophy : The Dark Knight of the Soul
Paperback
Description
Why doesn't Batman just kill the Joker and end everyone's misery? Can we hold the Joker morally responsible for his actions? Is Batman better than Superman? If everyone followed Batman's example, would Gotham be a better place? What is the Tao of the Bat? Batman is one of the most complex characters ever to appear in comic books, graphic novels, and on the big screen.
What philosophical trials does this superhero confront in order to keep Gotham safe?
Combing through seventy years of comic books, television shows, and movies, Batman and Philosophy explores how the Dark Knight grapples with ethical conundrums, moral responsibility, his identity crisis, the moral weight he carries to avenge his murdered parents, and much more.
How does this caped crusader measure up against the teachings of Plato, Aristotle, Kant, Kierkegaard, and Lao Tzu?
Information
Format: Paperback
Pages: 304 pages
Publisher: John Wiley and Sons Ltd
Publication Date: 30/05/2008
Category: Philosophy
ISBN: 9780470270301
Free Home Delivery
on all orders
Pick up orders
from local bookshops
Reviews
Showing 1 - 3 of 3 reviews.
Review by storyjunkie
16/06/2015
I wrote a sputtering set of comments when I decided that I didn't have to continue reading this book. The surface treatment of the very interesting issues brought up by Batman, and the iconic storylines of his recent history (_Dark Knight Returns_ to present, roughly) is almost worse than just reading the more composed meta comments on any comics message board. If I wanted "Batman is Cool, and Also Right!" propaganda, I know where to get that for free, and I'm disheartened to find cherry-picked analysis supports in something that I turned to in hopes of addressing the problematic nature of Batman-as-hero.
Review by atia
16/06/2015
I should know better than to read books like this. Like "Buffy the Vampire Slayer and Philosophy", this sounded interesting and intriguing, but at the end of the day it's really just a bunch of academics trying to find a justification to write about something they really enjoy. There's nothing wrong with that, of course, but - okay, I'm probably mostly angry with myself for reading all of this. I do think there are interesting questions that can be asked about Batman, but the way those questions are dealt with here was in most cases highly unsatisfying. It's an odd mix of using different philosopher's theory to illustrate a point about Batman and of using Batman to illustrate a point about a certain philosopher's theory. Some essays are actually cringe-worthy in their enthusiasm. Don't get me wrong - hey, I'm the Queen of Enthusiasm, but there's such a thing as too much. Or rather - don't try to be funny when you're really not. I also have to agree with another reviewer on here in that this reads awefully biased. Again, I myself am a huge fan of Batman, but even when there's a critical question to be raised, in the end Batman is right. If this book was called "Wanking about Batman", it'd be one thing, but "Batman and Philosophy", this is not.
Review by aadyer
16/06/2015
Excellent overview & there are some brilliant essays in this, making this surprisingly accessible at times. There are some duff efforts and there are some mediocre efforts but these are few & far between. Any Batman fan would get something out of this, and anyone with an interest in philosophy (Western or eastern) will also find parts of this rewarding. Serious but worth the effort
Also in the The Blackwell Philosophy and Pop Culture Series series | View all