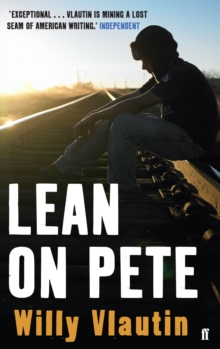 Description
Fifteen-year-old Charley Thompson wants a home; food on the table; a high school he can attend for more than part of a year; and, some structure to his life.
But as the son of a single father working at warehouses across the Pacific Northwest, he's been pretty much on his own for some time. "Lean on Pete" opens as he and his father arrive in Portland, Oregon and Charley takes a stables job, illegally, at the local race track.
Once part of a vibrant racing network, Portland Meadows is now seemingly the last haven for washed up jockeys and knackered horses, but it's there that Charley meets Pete, an old horse who becomes his companion as he's forced to try to make his own way in the world.
A portrait of a journey - populated by a vivid cast of characters against a harsh landscape - "Lean on Pete" is also the unforgettable story of a friendship and of hope in dark times.
Information
Format: Paperback
Pages: 224 pages
Publisher: Faber & Faber
Publication Date: 01/01/2010
ISBN: 9780571235728
Other Formats
Paperback from £6.89
EPUB from £5.58
Free Home Delivery
on all orders
Pick up orders
from local bookshops
Reviews
Showing 1 - 4 of 4 reviews.
Review by polarbear123
16/06/2015
This book has a fantastic pace to it. The prose is simple and sharp and the story moves along so fast it is quite easy to complete the book in one sitting. It was a reasonably straight story of a teenage boy going through a tough time in his life and finding some solace in teh company of a horse whom he befriends. The narrative does not waste time with much background to the main character's predicaments but cleverly his family history is revealed through the conversations he has with the horse, 'Lean on Pete' as they bond together. THis book reminded me of reading Cormac McCarthy, however in a simplified version if you will. The language may be simple, but the book has a lot of depth to it and I found myself rooting for Charley the boy, all the way through. There are so many characters in this book, too many to mention and all have some sort of bearing on Charley's life. A whirlwind tour of North America and it's various inhabitants makes this book uite revealing about the variety of lifestyles in this continent. I highly recommend this book as a great way to spend an afternoon, a great little story that is easy to lap up in one go. I will certainly be reading more from Willy Vlautin!
Review by elkiedee
16/06/2015
Charley is a 15 year old boy who just wants to be an ordinary teenager, one who lives in a home with people who look after him, has enough food to eat and can go to school regularly and get on to the football team. His father is often not there for him, moving around cities and jobs - Charley doesn't even really know why at the beginning of this story they have had to move from Spokane to Portland, Oregon. When not at work his dad is off with a new girlfriend, never saying when he'll be back, perhaps on a drinking bender. Charley keeps running out of money and/or food so he lies his way into casual work with a man at the local racecourse, and makes friends with Lean on Pete, a horse.Charley's story, told in the first person, and voice are compelling and I was upset for him at every unlucky twist and turn of the story. He is not self-pitying although sometimes in the course of the story he is understandably angry and upset, as he has to face up to some very grim realities.As his life go from bad to worse Charley sets out on a road trip wiht the horse, hoping to find somewhere he can settle. I was carried along by the flow of the story and the quality of Willy Vlautin's writing.This is Vlautin's third novel and I'll definitely be seeking out the other two. He's also a singer songwriter with a band, Richmond Fontaine, and I'll be listening to his songs which often share stories and themes with his novels.I'm very grateful for my Early Reviewers copy of this book. Recommended.
Review by presto
16/06/2015
Fifteen year old Charlie Thompson lives with his unreliable single father who is unable to stay any place for long. Charlie has no friends as he moves around so frequently, and when they move to Portland, Oregon, before the start of the year at his new school he often finds himself on his own for days at a times, having to fend for himself. He manages to get a job working with horses at Delta Park, that's where he meets Lean on Pete, a four year old racehorse to whom he becomes particularity attached, and who will become the cause of his sudden departure from Portland and the beginning of an unenviable mission to find a place for himself in the world, somewhere he can call home.Lean on Pete is a touching tale of a young boy who wants nothing more than to be able to finish school, join the school football team, and have a secure family home. Charlie tells his own tale in his own no-nonsense fashion as he tries to find just that. The result is an appealing and heart warming read, filled with a cast of mist-fits, the good natured, and the not to be trusted. While I thoroughly enjoyed Lean on Pete, Willy Vlautin slipped up very much in his portrayal of the WatchTower distributor who Charlie meet on his journey. Someone distributing the WatchTower could be only a JW, and no JW would behave as did the one Charlie encountered. In fact had Charlie meet any JW his problems would have been solved instantly, they have a reputation for going out of their way to help anyone, as I know from personal experience.
Review by andrewlorien
27/08/2015
I'm giving it 5 stars for personal reasons. The kid in this book is so much like my 15 year old nephew, and his story could easily go this way. hopefully nobody will die, hopefully he won't lose touch with everybody. Charley's upbringing, his perspective on the world, his reactions to stress and crisis, his sense of justice, his personal boundaries... they're all the same. I'm writing that in a card, wrapping up the book, and hoping that six years from now a 21 year old will be able to see himself here.