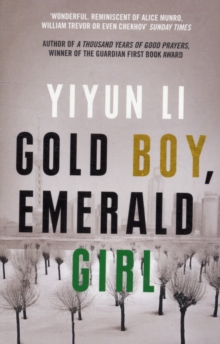 Gold Boy, Emerald Girl
Paperback
Description
The second collection of stories from Yiyun Li, author of the Guardian First Book Award-winning A Thousand Years of Good Prayers and The Vagrants.The stories in this collection, like the stories in A Thousand Years of Good Prayers, are mostly set in China.
The country portrayed here is the China of the 21st century, where economic development has led to new situations unknown to previous decades: residents in a shabby apartment building witnessing in awe the real estate boom; a local entrepreneur-turned-philanthropist sheltering women in trouble in her mansion; a group of retired women discovering fame late in their lives as private investigators specialising in extramarital affairs; a young woman setting up a blog to publicise the alleged affair of her father.Underneath the veneer of prosperity and opportunity, however, lie the struggles of characters trying to reorient themselves in the unfamiliar landscapes of modern China: a widower, reminiscing about his wife, confronts a young unmarried woman purchasing condoms in a pharmacy; a new wife makes a plea to have a baby with her husband who was to be executed only to discover that she has become an instant celebrity; a middle-aged couple in America, who, upon losing their only daughter, return to their hometown in China to hire a young woman as a surrogate mother.
These characters' fates are affected as much by the historical moments in which they reside as by the choices they make.Yiyun Li's new collection of stories is a report from the front-line of a changing world, and confirms Li to be a writer not to be missed.
Information
Format: Paperback
Pages: 256 pages
Publisher: HarperCollins Publishers
Publication Date: 01/09/2011
ISBN: 9780007303106
Other Formats
EPUB from £3.99
Hardback from £12.15
Free Home Delivery
on all orders
Pick up orders
from local bookshops
Reviews
Showing 1 - 2 of 2 reviews.
Review by readingwithtea
16/06/2015
"'The moment you admit someone into your heart you make yourself a fool,' she said. 'When you desire nothing, nothing will defeat you. Do you understand, Moyan?'"In this highly-acclaimed volume of short stories, Li examines what it is to be a girl in modern China; adoptive daughters, female soldiers, old spinsters and marriages of convenience all come under consideration in her spare prose, in her little vignettes which rarely touch on the plot and involve few men. Mostly, this is a collection of reflections on men's and women's different roles in life and how women deal with that difference.This has been very favourably reviewed by a number of bloggers (full list of those I've come across at the bottom of the review) but somehow the magic didn't reach me. I found the recurring theme of how hard women have it in life wearing (although I don't deny its truth, certainly in certain countries) and tired of the almost stereotypical women presented – there were a number of spinsters, tired and world-weary, a group of busybody investigating old hens, a woman acting on a teenage crush… had this been written by a man I would have flung it out the window in disgust.Li has a beautiful turn of phrase, I won't dispute that:"Spring in Beijing was as brief as a young girl's grief over a bad haircut""She had always liked to talk about her own death as if it was an event to look forward to, her secret superstition being that death, like a man, would make itself conveniently unavailable once it knew it was desired.""Hanfeng looked at Siyu's face, detecting a familiar absentmindedness. His mother, too, asked him questions to which she seemed scarcely interested in knowing the answers. He wondered if this happened to women who lived by themselves."but her characters were often unsympathetic: in the first story, the narrator is quite heartless about a funeral"It is a hassle to travel for a wedding, but more so for a funeral. One has to face strangers' tears and, worse, one has to repeat words of condolence to irrelevant people."while her mentor bluntly reveals that the girl is adopted"'You do know that you are not your parents' birth daughter, don't you?' She turned and faced me. 'And you do know that no matter how nicely they treat you, they can't do much for your education, don't you?'"I am very much the odd one out in perceiving this collection to be less than remarkable; I suspect it is my inexperience with the short story format. I would expect this collection to appeal to fans of an sparser writing style (others have suggested Kazuo Ishiguro as a companion author and I wholeheartedly agree) and those interested in feminist literature.
Review by FionaWh
16/06/2015
I felt for everyone of these characters, and was left wanting to know more of their lives. My first Yiyun Li book but I will be looking for more.