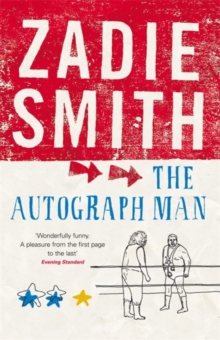 The Autograph Man
Paperback
Description
The Autograph Man is Zadie Smith's whirlwind tour of celebrity and our fame-obsessed times.
Following one Alex-Li Tandem - a twenty-something, Chinese-Jewish autograph dealer turned on by sex, drugs and organised religion - it takes in London and New York, love and death, fathers and sons, as Alex tries to discover how a piece of paper can bring him closer to his heart's desire.
Exposing our misconceptions about our idols - about ourselves - Zadie Smith delivers a brilliant, unforgettable tale about who we are and what we really want to be.'A glorious concoction written by our most beguiling and original prose-wizard' Independent on Sunday 'A brilliant comedy with a tantalising throb of mystic philosophy underneath' Philip Hensher, Books of the Year, Spectator'A pleasure from the first page to the last' Evening Standard'Intellectually agile ... ecstatic inventiveness' Time'A classic' Spectator 'Genuinely funny and entertaining' Guardian'Vibrant, highly imaginative' Jewish Chronicle'Full of irony, humour, the search for love and the fear of death . . . a touching, thoughtful, deeply felt rite-of-passage novel' Sunday Telegraph
Information
Format: Paperback
Pages: 432 pages
Publisher: Penguin Books Ltd
Publication Date: 22/05/2003
ISBN: 9780140276343
Free Home Delivery
on all orders
Pick up orders
from local bookshops
Reviews
Showing 1 - 4 of 4 reviews.
Review by drivingsideways
16/06/2015
*shaking head *After the sheer brilliance of "White Teeth", possibly nothing Smith could have written would have matched up- yet, Autograph Man gives you the impression that she didn't even try.
Review by LadyN
16/06/2015
I very much enjoyed this book. It's a more intimate narrative than White Teeth, concerning a much smaller circle of charaters, and spanning a shorter time frame. The consequence is that the plot is not as rich as White Teeth, but in some ways this was as much an advantage as not. The interesting thing about Smith's books are they are all very different. (I didn't think much of On Beauty at all).
Review by Linus_Linus
16/06/2015
I am sure for all of us there would be a book reading which would feel like we are reading our own life and its happenings; what we think, feel, and live etc. <br/>Well, this is my book. <br/>Was rather, it depicts a segment of my life almost biographically.<br/><br/>
Review by cajela
16/06/2015
This is the tale of Alex-Li Tandem, an English Chinese Jew who makes a living trading autographs. He's in search of one famously elusive star's signature, and also in search of what it means to be himself. He catalogues the world as Jewish or not; he avoids dealing with his father's death and whether to say Kaddish; he gets rotten drunk and pisses off his friends; he flies to New York and meets the elusive star while his girlfriend is in hospital. He's not always easy to sympathise with...It's a fun read, as Zadie Smith writes so beautifully about the most unlikely things. A white Jew, a black Jew and a Chinese Jew go to a wrestling match... and it's not a joke, it's a morality tale. Perhaps not quite up to the standard of White Teeth, but worthwhile anyway.