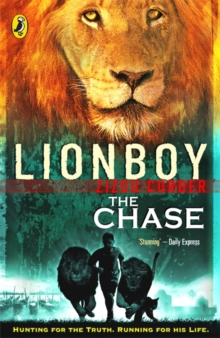 The Chase
Paperback
Part of the Lionboy series
Description
Charlie Ashanti is on the run from an amazing floating circus with six homesick beautiful Lions and an extraordinary sabre-toothed creature.
Charlie has promised to help the Lions find their way home to Morocco but he has his own problems: his Mum and Dad have been kidnapped and he is determined to find them.
His new friends, King Boris of Bulgaria and his security chief, Edward, have promised to help.
But Charlie wonders if he was wrong to trust them when he and the Lions find themselves held virtually as prisoners in Venice.
They eventually escape with the help of a friendly gondolier, and after a dangerous sea journey the Lions finally make it home and Charlie is at last reunited with his parents.
Information
Format: Paperback
Pages: 336 pages, Illustrations
Publisher: Penguin Books Ltd
Publication Date: 01/06/2005
Category: General
ISBN: 9780141317564
Free Home Delivery
on all orders
Pick up orders
from local bookshops
Reviews
Showing 1 - 2 of 2 reviews.
Review by Clurb
16/06/2015
Charlie's continuing journey across Europe sees him and the Lions making new friends, fierce enemies and learning more about the Corporacy's dastardly plot. Good stuff with a few twists and turns.
Review by ArkhamReviews
16/06/2015
I can see looking at reviews of this novel online that I am in the minority for not liking this novel and so appreciate that there may be some appeal about it that simply eludes me.The prose is overly simplistic and at times lacks coherence - sometimes causing sentences to run together and making action sequences seem hazy and unegaging. The pacing is poor, taking a good two thirds of the novel before it actually felt as though it was moving and, even then, there appears to be no rhyme and reason for the events that it portrays. Although a lot of things do 'happen' within the novel, there is no sense of consequence. Scientists clone a smilodon which then escapes, but nobody makes any visible effort to reclaim this. A young boy gives an asthma inhaler to a sick girl and becomes worshiped by an entire city as an angel. Two kidnapped scientists escape from a gated community where they have been held prisoner for weeks with remarkable ease, yet no one appears to have noticed that they are gone. I know it's easy to brush off such criticisms by saying that this is a children's story, but that is really not an excuse for lazy story-telling.The one redeeming feature of the novel was the character of Charlie, who remains a realistic and sympathetic hero, but for me this was not enough to save it. I'm also a bit baffled as to why this book is classed as being for both children and young adults. Although a younger audience might get a kick out of it, it certainly holds little appeal for a teen audience.
Also in the Lionboy series