CDs
Browse popular music categories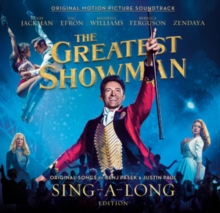 Deluxe repackaging of the record-breaking soundtrack album, featuring all the original music, a bonus disc of sing-a-long tracks and an exclusive 32-page lyric booklet. The packaging is presented as a CD-sized hardback book. Disc 1 features 12 original songs, while Disc 2 features 12 instrumental versions to sing-a-long to.
Bestsellers in CDs
CDs at hive.co.uk
There's something for every musical taste and mood in our vast collection of music CDs. Browse the genres, spanning Dance, R&B & Soul through to Jazz and Classical.
Find albums by current music phenomena like Beyoncé, Kings of Leon and Foo Fighters to the back catalogues of Fleetwood Mac, Led Zeppelin and Bob Marley.