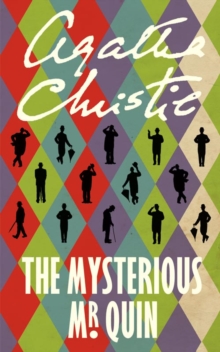 The Mysterious Mr Quin
Paperback
Description
A mysterious stranger appears at a New Year's Eve party, becoming the enigmatic sleuthing sidekick to the snobbish Mr Satterthwaite...So far, it had been a typical New Year's Eve house party.
But Mr Satterthwaite - a keen observer of human nature - sensed that the real drama of the evening was yet to unfold.So it proved when a mysterious stranger arrived after midnight.
Who was this Mr Quin? And why did his presence have such a pronounced effect on Eleanor Portal, the woman with the dyed-black hair?
Information
Format: Paperback
Pages: 320 pages
Publisher: HarperCollins Publishers
Publication Date: 06/01/2003
Category: Classic crime
ISBN: 9780007154845
Other Formats
Hardback from £10.65
Paperback from £7.69
CD-Audio from £16.35
EPUB from £3.99
Free Home Delivery
on all orders
Pick up orders
from local bookshops
Reviews
Showing 1 - 4 of 4 reviews.
Review by riverwillow
16/06/2015
I have such a soft spot for this collection of short stories featuring a strange character called Mr Harley Quin who assists Mr Satterwaite in solving weird and wonderful mysteries. But there is a sting in the tail.
Review by akfarrar
16/06/2015
Strange book this one - not at all what you expect from Ms Christie.Twelve short stories - all featuring Mr Satterthwaite,; snob, elderly English Gentleman and knower of anyone who is 'Anyone': An observer of people - and friend to Mr Quin. The later character was apparently Ms Christie's favourite and originated in her book of poems, 'The Road of Dreams'.In the first story, The Coming of Mr Quin, we meet the pair - and they meet for the first time. It is a basic 'crime' with a wrongful suspicion hanging over the head of one of the characters - Slaterthwaite, with the prompting of Quin, resolves the situation through observation the clarity distance in time brings.And that is basically the model for the rest of the collection.Sometimes, as in the second story, The Shadow on the Glass, there is a good murder - and twisty end; sometimes there is only an echo of a crime and the story is more about resolution: The Soul of the Croupier, for example.I read them in short succession and found them to be a little too much - I think dipping in to one of the stories and having a break between might be a much better way of treating the material. Individual I found them to be well written and quite satisfying.Love features strong. I am tempted to suggest they are in fact love stories dressed up as something else.There is a mysticism and vaguely religious air to them - Mr Harley Quin, by the final chapter, has become less and less of human and more and more of a wish fulfilment. There is also a sting in the tail.I enjoyed them - and will return, but one at a time, with a healthy dose of murder and detectives in between each one.
Review by JeffreyMarks
16/06/2015
An interesting use of the Harlequin legend. Christie always had a thing for Harlequin, and the character in many guises shows up in her work. In this case, the character is a nebulous entity who assists in solving mysteries. The stories vary from straight puzzle mysteries to romantic to supernatural.
Review by Nandakishore_Varma
16/06/2015
According to me, this is one of the underrated gems of Agatha Christie, where she flirts with fantasy. Even though none of the stories except the last one (<i>Harlequin's Lane</i>) cross over into fantasy territory, they are always on the borderline. That Christie does this without straining our credibility speaks volumes for her mastery of the medium.<br/><br/>Mr. Harley Quin is a thinly disguised Harlequin, transported into modern England. His specialty: he allows one to solve mysteries by stripping away the unnecessary details. He does this by asking one to imagine that the events happened in the remote past, to strangers: this removes the personal element from the equation and allows one to see clearer. Mr. Satterthwaite, an elderly bachelor who is interested in human beings and their affairs, is the usual beneficiary of Quin's method.<br/><br/>Most of the mysteries in the volume are dark and brooding. The first story, <i>The Coming of Mr. Quin</i>, sets the tone for the whole book when Quin appears at the doorstep of the country house where Mr. Satterthwaite happens to be spending his New Year's Eve, as the first visitor of the year. As he steps across the threshold, a queer trick of the light appears to give the impression that the visitor is dressed in motley and is wearing a mask. Then Quin sets out to make his presence felt by enabling the house-guests to solve the mystery of a suicide that happened in that house a year ago! In the process, he helps two lovers reunite.<br/><br/>This is Quin's trademark - love...and violent death. As Satterthwaite says, his friend seem to be interested in the welfare of lovers more than solving crimes. But in a Christie story, they often go hand in hand.<br/><br/>This book is a personal favourite of mine, read over and over countless number of times; especially on wet June nights, in the cavernous rooms of my ancestral home in Kerala, as the monsoon rages outside. I half expect Quin to step over the threshold every time, saying: "Damnable weather outside. Can I wait inside till it clears?"