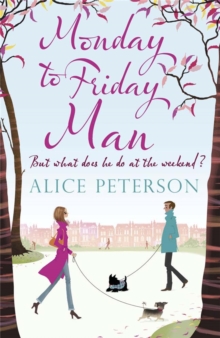 Monday to Friday Man
Paperback
Description
THE #1 KINDLE BESTSELLER. What do you do if you're 34, single and recovering from being jilted two weeks before your wedding day?
This is Gilly Brown's dilemma. While friends are marrying and having children Gilly finds herself alone in London and holding on to her fractured family with their tragic past.
At least she has her dog Ruskin and her dog-walking friends. But it's time to meet new people, Gilly gets a Monday to Friday lodger: handsome reality television producer Jack Baker.
Gilly falls for Jack's charm and is transported into an exciting social whirlwind of parties, dining out and glamour.
Guy, the newest recruit to her dog-walking group, isn't quite so convinced about Jack's intentions.
As Guy watches them grow closer, his suspicions of Jack and his feelings for Gilly deepen.
Is Jack so perfect after all...and what exactly does he get up to at the weekends?
Information
Format: Paperback
Pages: 336 pages
Publisher: Quercus Publishing
Publication Date: 01/07/2011
Category: Romance
ISBN: 9780857383242
Free Home Delivery
on all orders
Pick up orders
from local bookshops
Reviews
Showing 1 - 2 of 2 reviews.
Review by matildawrenauthor
16/06/2015
I read this as part of a Book Club I belong to.Whilst it didn't suit everybody's taste within the club, what it did do was prompt interesting debate and conversation between us all and there was a unanimous agreement that it was a damn good read! 'Monday to Friday Man' is humorous and light-hearted. It is an 'easy' read which was perfect for our first attempt at a book club. Chick-lit fans should read this book.It is soundly composed, well structured and takes you through a range of emotions. Characters are well developed, some more than others and quite a few of us could definitely relate to Gilly Brown, which is a sign of a well written book. We could identify with certain characters and others we wanted to scream and shout out. They all, though, provoked a reaction of some sort. Jack Baker, the lodger of mystery and intrigue caused a stir throughout our group, some positive stirs and some negative which goes to show the depth to which Alice Peterson has dug to produce well rounded, well believable quirky characters; the estate agent who deliberately plays down the houses and local areas, influencing her to stay in London instead, was one of our favourites.The imagery within the story was marvellous, taking the reader on a journey of visual sensory adventure by placing them right in the mix. You walked the dogs with Gilly. You were in Jack's parent's house. You noticed the sympathy and concern written all over the estate agents face. You were there!The book cover was eye catching and made you want to pick it up off the shelf. It looked girly and romantic. It did what it said on the tin! It worked in the kindle version too which is quite hard to master the two. Too much activity on a book cover loses detail when converted to a thumbnail for the kindle. In today's electronic age, it is important to remember how your book will look in a digital format. If readers can't see what the book looks like, they are less likely to download it, therefore missing out on a potentially great story.
Review by autumngirl70
16/06/2015
Fairly predictable storyline in that you knew what ultimately going to happen but harmless fun along the way. For a quick light read I'd recommend.