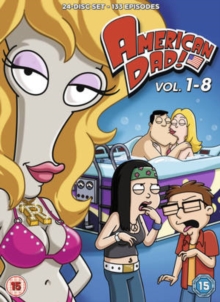 American Dad!: Volumes 1-8
DVD
Description
The first eight volumes of episodes from the popular animated comedy series from 'Family Guy' creator Seth MacFarlane.
Stan Smith (voice of MacFarlane) works for the CIA and is constantly on high alert for terrorist activity.
In addition to Stan's wife and teenage children, the Smith household has two rather unconventional members: there's Roger (MacFarlane), the sarcastic space alien who Stan rescued from Area 51 and Klaus (Dee Bradley Baker), a lascivious German speaking goldfish, the result of a CIA experiment gone seriously wrong.
Volume 1 episodes are: 'Pilot', 'Threat Levels', 'Stan Knows Best', 'Francine's Flashback', 'Roger Codger', 'Homeland Insecurity', 'Deacon Stan, Jesus Man', 'Bullocks to Stan', 'A Smith in the Hand', 'All About Steve', 'Con Heir', 'Stan of Arabia: Part One' and 'Stan of Arabia: Part Two'.
Volume 2 episodes are: 'Stannie Get Your Gun', 'Star Trek', 'Not Particularly Desperate Housewives', 'Rough Trade', 'Finances With Wolves', 'It's Good to Be the Queen', 'Roger 'n' Me', 'Helping Handis', 'With Friends Like Steve's', 'Tears of a Clooney', 'Camp Refoogee', 'The American Dad After School Special', 'Failure Is Not a Factory-Installed Option', 'Lincoln Lover', 'Dungeons and Wagons', 'Iced, Iced Babies', 'Of Ice and Men', 'Irregarding Steve' and 'The Best Christmas Story Never'.
Volume 3 episodes are: 'Bush Comes to Dinner', 'American Dream Factory', 'A.T.
Abused Terrestrial', 'Black Mystery Month', 'An Apocalypse to Remember', 'Four Little Words', 'When a Stan Loves a Woman', 'I Can't Stan You', 'The Magnificent Steven', 'Joint Custody', 'The Vacation Goo', 'Meter Made', 'Dope and Faith', 'Big Trouble in Little Langley', 'Haylias', 'The 42-Year-Old Virgin', 'Surro-Gate' and 'Frannie 911'.
Volume 4 episodes are: 'The Most-Adequate Christmas Ever', 'Tearjerker', 'Oedipal Panties', 'Widowmaker', 'Red October Sky', 'Office Spaceman', 'Stanny Slickers II - The Legend of Ollie's Gold', 'Spring Break-up', '1600 Candles', 'The One That Got Away', 'One Little Word', 'Choosy Wives Choose Smith', 'Escape from Pearl Bailey' and 'Pulling Double Booty'.
Volume 5 episodes are: 'Phantom of the Telethon', 'Chimdale', 'Stan Time', 'Family Affair', 'Live and Let Fry', 'Roy Rogers McFreely', 'Jack's Back', 'Bar Mitzvah Hustle', 'Wife Insurance', 'Delorean Story-an', 'Every Which Way But Lose', 'Weiner of Our Discontent', 'Daddy Queerest' and 'Stan's Night Out'.
Volume 6 episodes are: 'In Country... Club', 'Moon Over Isla Island', 'Home Adrone', 'Brains, Brains and Automobiles', 'Man in the Moonbounce', 'Shallow Vows', 'My Morning Straitjacket', 'G-String Circus', 'Rapture's Delight', 'Don't Look a Smith Horse in the Mouth', 'A Jones for a Smith', 'May the Best Stan Win', 'Return of the Bling', 'Cops and Roger', 'Merlot Down Dirty Shame', 'Bully for Steve', 'An Incident at Owl Creek' and 'The Great Space Roaster'.
Volume 7 episodes are: '100 AD', 'Son of Stan', 'Best Little Horror House in Langley Falls', 'Stan's Food Restaurant', 'White Rice', 'There Will Be Bad Blood', 'The People Vs Martin Sugar', 'For Whom the Sleigh Bell Tolls', 'Fartbreak Hotel', 'Stanny Boy and Frantastic', 'A Piñata Named Desire', 'You Debt Your Life', 'I Am the Walrus', 'School Lies', 'License to Till', 'Jenny Fromdabloc', 'Home Wrecker', 'Flirting With Disaster' and 'Gorillas in the Mist'.
Volume 8 episodes are: 'Hot Water', 'Hurricane!', 'A Ward Show', 'The Worst Stan', 'Virtual In-Stanity', 'Season's Beatings', 'The Unbrave One', 'Stanny Tendergrass', 'Wheels and the Legman and the Case of Grandpa's Key', 'Old Stan in the Mountain', 'The Wrestler', 'Dr. Klaustus', 'Stan's Best Friend', 'Less Money, Mo' Problems', 'The Kidney Stays in the Picture', 'Ricky Spanish' and 'Toy Whorey'.
Information
Format: DVD
Region: 2
Certification: (15)
EAN: 5039036060424
Catalogue number: 5514601000
Studio: 20th Century Fox Home Ent.
Release date: 05/08/2013
Genre: Comedy
Colour: Colour
Free Home Delivery
on all orders
Pick up orders
from local bookshops