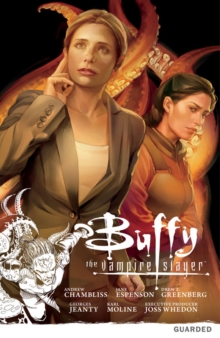 Buffy The Vampire Slayer: Season Nine Volume 3: Guarded
Paperback
Information
Format: Paperback
Pages: 136 pages, 1 Illustrations, unspecified
Publisher: Dark Horse Comics
Publication Date: 07/05/2013
Category: Horror & ghost stories
ISBN: 9781616550998
Free Home Delivery
on all orders
Pick up orders
from local bookshops
Reviews
Showing 1 - 3 of 3 reviews.
Review by catfantastic
16/06/2015
In the three-issue "Guarded," Buffy joins a company Kennedy created using slayers as bodyguards. Her assignment is to protect a young internet billionaire who has created a popular social media site (think Facebook.) Also Wolfram &amp; Hart are involved. I wasn't that taken with this one.I did like the two-issue "Billy the Vampire Slayer" side story. Very, very nice and sweet. The coolest boy at school, Devon, (whom Billy has a not-so-secret crush on!) decides to become his "watcher" and make Billy a slayer. So cute. I do find the interior artwork a real detriment to my enjoyment of the <i>BtVS</i> graphic novels though . . . it's weird to me that Dark Horse and Joss Whedon can't get some better artists. The artist doing the <i>Angel &amp; Faith</i> comics has a much better eye for the actors/characters than anyone working on the <i>Buffy</i> series . . .
Review by Bert.Cielen
16/06/2015
Neither "Guarded" nor "Billy The Vampire Slayer" are particularly great reads. Both are predictable and quite frankly rather boring.
Review by fyrefly98
16/06/2015
Summary: In Volume 3, "Guarded", Buffy takes a job with Kennedy's new association of Slayers-turned-bodyguards. On Buffy's first trial run, they're supposed to be guarding a tech billionaire, so no special Slayer skills required… but of course, things turn out to be a lot more demon-y than anyone was expecting. We also get introduced to Billy the Vampire Slayer, a young man who isn't "called" the way Slayers normally are, and is busy dealing with bullying and boy troubles, but decides that it's his duty to help rid his small town of its infestation of the mindless slavering zompires that are being sired ever since Buffy destroyed the Seed.Review: I think Season 9 was a lot stronger than Season 8. Not every single thing Buffy does has to be preventing a world-ending apocalypse (although it usually works out that way) and I think that by keeping her storyline a little smaller and her motivations more focused (figure out life, navigate relationships, deal with a changed world, kill vampires, protect the people you love), the writers managed to keep the series reigned in to a more manageable scope, and kept it feeling more like the TV show and less like a trip to crazy-town. One of the key differences, I thought, was that S8 had a lot of stuff that felt like the writers were doing it because they didn't have to worry about special effects budgets anymore, so they could have all the special effects they wanted. On the other hand, there was very little in S9 that felt like it was something that couldn't have been filmed, which is I think how comics should be: a little something extra that we can't get from TV, but not so much that it loses touch with the spirit of the original series. And the Buffy comics, particularly S9, are good about keeping the flavor of the original. The characters all sound like themselves, even as they grow and change in response to what's happened in their lives. The patter of the dialogue still flows the same. The characters… don't quite look the same (in the panels, at least; the cover paintings are quite realistic), but that's not new to this season, and at least they're all consistently identifiable (except for Andrew, who in my opinion is probably the character that looks the farthest from the actor). So overall, I really enjoyed these; they've got the signature Buffy mix of humor and heart and supernatural ass-kicking, all while sticking a little closer to the types of stories that made the series so great. 4 out of 5 stars.Recommendation: I can't imagine these comics making a lot of sense to someone who hasn't seen the whole series and read season 8 (and maybe some other stuff as well; this season involved some Angel references, and probably some things from the other Buffyverse comics that I don't read that went right over my head.) But for fans of the show, this season is a lot more satisfying than S8.