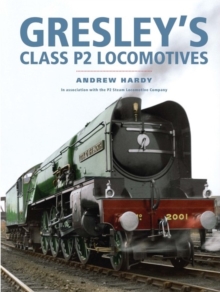 Gresley's Class P2 Locomotives
Hardback
Description
Gresley's impressive 2-8-2 locomotives built for the LNER have long held a fascination for railway historians but despite their great historical significance, none survived into preservation.
However, the plans to create two new-build steam locomotives in the 'P2' class have put these locomotives at the forefront of enthusiast railway interest.
Although the 2-8-2 wheel arrangement was uncommon in Britain, it had been used to great effect abroad and Gresley's interest in locomotive design around the world, encouraged him to first build two Class P1 freight locomotives.
Built at Doncaster in 1925, they proved difficult to operate and were withdrawn by Gresley's successor Thompson in 1945.
Gresley's next venture into the 2-8-2 wheel formation was a landmark in British express locomotive history.
Arguably, No 2001 Cock o' the North was the most powerful steam locomotive to run on Britain's railways when it was built in 1934.
Gresley's design was influenced by the French master of steam locomotive engineering, Andre Chapelon, and the initial eye-catching look of 2001, with its cutaway smokebox top was modified in subsequent locomotives to handsome streamlining similar to the 'A4s'.However, the story does not end there because in this century two separate projects are underway to build new 'P2s'. The same organisation that built the Tornado, the A1 Steam Locomotive Trust, has started the construction of 2007 Prince of Wales and the Doncaster P2 Locomotive Trust is building a streamlined 1938-style replica 'P2'.
This new book introduces Gresley's 2-8-2s then concentrates on the design, construction, testing (in the UK and France) of the P2s, along with their life in traffic, rebuilding and scrapping.
The author has access to a complete set of images following the construction of No 2001 Cock o'the North from the 1930s, as well as some original engineering drawings, gradient profiles and copies of some of Gresley's letters about the engine.
The book includes an appendix with the major stats and mileages of each engine along with items like the Vitry test diary.
Author Andrew Hardy is the Archivist and Researcher of the P2 Steam Locomotive Company and has spent the last few years researching the original P2 locomotives and has amassed a significant amount of information on the locomotives, much of which has not been published before.His archive holds 400 images of P2s, some very rare film, original documents including some of Gresley's letters and personal correspondence along with other period material.
Free Home Delivery
on all orders
Pick up orders
from local bookshops
Also by Andrew Hardy