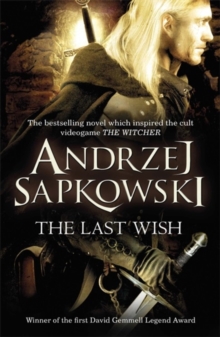 Description
Geralt is a witcher, a man whose magic powers, enhanced by long training and a mysterious elixir, have made him a brilliant fighter and a merciless assassin.
Yet he is no ordinary murderer: his targets are the multifarious monsters and vile fiends that ravage the land and attack the innocent.
He roams the country seeking assignments, but gradually comes to realise that while some of his quarry are unremittingly vile, vicious grotesques, others are the victims of sin, evil or simple naivety.
One reviewer said: 'This book is a sheer delight. It is beautifully written, full of vitality and endlessly inventive: its format, with half a dozen episodes and intervening rest periods for both the hero and the reader, allows for a huge range of characters, scenarios and action.
It's thought-provoking without being in the least dogmatic, witty without descending to farce and packed with sword fights without being derivative.
The dialogue sparkles; characters morph almost imperceptibly from semi-cliche to completely original; nothing is as it first seems.
Sapkowski succeeds in seamlessly welding familiar ideas, unique settings and delicious twists of originality: his Beauty wants to rip the throat out of a sensitive Beast; his Snow White seeks vengeance on all and sundry, his elves are embittered and vindictive.
It's easily one of the best things I've read in ages.'
Information
Format: Paperback
Pages: 288 pages
Publisher: Orion Publishing Co
Publication Date: 14/02/2008
Category: Fantasy
ISBN: 9780575082441
Free Home Delivery
on all orders
Pick up orders
from local bookshops
Reviews
Showing 1 - 1 of 1 reviews.
Review by reading_fox
16/06/2015
The introduction to Geralt of Riva - Witcher. Translated from the original Polish.A collection of chapters each of which is an adventure in it's own right with little reference to previous events, hence more short stories than a full novel. Geralt, already famous as a dedicated witcher (monster killer for hire) comes to the town of Wizema to redeem a princess cursed to a particularly malevolant werewolf form called a striga. He recouperates at a monestry dedicated to the goddess Melitele run by the priestess Nenneke, and there he relates various tales, as she tries to probe the cowel of Destiny which surrounds him.Although Witchers have no formal code geralt has developed a fine sense of justice - considering he is basically a mercenary - some contracts he won't take, others he'll resolve in his own way. But he has to be paid to live. The various adventures relate different circumstances in which he finds himself and how these have helped to deveop a fine sense of ethics. None ofthe other characters get much more than passing description butGgeralt himself is an interesting study. Sapkowski's world is vibrantly filled with monsters of all kinds - far away from the traditional norms. But the shortness of each tale means we don't get much detail. Its a fast paced book. And relates very closely to the computer game developed from it. There aere amusing references to various traditional fairy tales.Enjoyably inventive fantasy world, without much background depth. Readable especially for fans of the PC game.