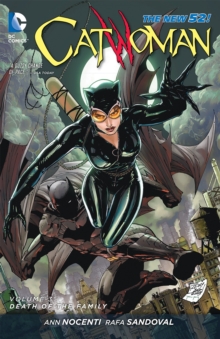 Catwoman Volume 3: Death of the Family TP (The New 52)
Paperback
Description
Writer Ann Nocenti begins her run with the feline fatale!
Catwoman must stayone-step ahead of the Joker as he terrorizes Batman and his allies during theBat-Family crossover event "Death of the Family." But there's no rest for thewicked as hot on the heels of her encounter with the Clown Prince, Catwoman ishired to break into the Black Room to steal the Black Diamond - the sourceof power for the villainous Eclipso!Collects Catwoman #0, 13-18, and a story from Young Romance#1.
Information
Format: Paperback
Pages: 176 pages
Publisher: DC Comics
Publication Date: 01/10/2013
Category: Superheroes
ISBN: 9781401242725
Free Home Delivery
on all orders
Pick up orders
from local bookshops
Reviews
Showing 1 - 3 of 3 reviews.
Review by DanieXJ
16/06/2015
Huh, this was an interesting combination of issues in this third Catwoman TPB. It's sort of the 'blowback' TPB. It does have a bit of the Death of the Family storyline in it, but for the most part Selina is doing her own thing in this TPB with only a little bit of contact with the Joker.I did sorta like (in a disturbed way) the way in which the writers had the Joker messing with her. People in chess pieces, good and bad warring, it was interesting.Of course, the main story in this TPB was just about Catwoman. Trip Winters gets her a gig where she's supposed to break into A.R.G.U.S.'s 'black room' and steal something from it's even more super secret and secure safe. Boy oh boy does that go pear shaped quickly. On the whole Trip Winters doesn't have a good bunch of issues here, and neither does Gwen. We also get to see the emergence of a new power player in town, who was pretty obvious to me because I've been reading Batman comics since I was a kid, but, for anyone starting back in with the New 52 titles, maybe it'll be a surprise.Overall I mostly liked this TPB. The art was okay, solid but not amazing, and there was even a bit of Batman/Catwoman interaction which if written well is always something I like to read. Oh, and then there was the ending. Solid 4 stars, and I can't wait for the next TPB.I got this advanced galley through Netgalley on behalf of DC Entertainment.
Review by ElizaJane
16/06/2015
I read the Batman series but decided to branch out and read all the "Death in the Family" volumes to actually see how DC combines these story arcs throughout the universe. I'm no big fan of Catwoman and this volume did not change my mind but it was a decent story and I loved the art. The book is broken up basically into two main stories featuring a lot of flashbacks into Selina's past and background. I enjoyed the flashbacks the most as it gave a better insight for me into this ambiguous character. There is even a romantic flashback to her and Batman at the end! The first half of the book contains the "Death of a Family' tie-in as Catwoman is harassed by The Joker in a pretty creepy/stalker mode. I love the artist's rendition of Joker since he had his face cut off, he's not so comical looking and yet he is more appealing to me this way as I've never been a fan of the Joker either. The second story has Catwoman being hired to go into A.R.G.U.S. and steal a black diamond from the top secret black room. This starts out as a good caper but ends up involving the paranormal which I hadn't expected but it does introduce us to a new supervillain. Finally Gwen and Selina, put on their own heist to steal some paintings which brings back elements of the first two stories and a brief cameo from Batman. Decent enough story but not anything to make me want to start reading Catwoman.
Review by LaneLiterati
16/06/2015
Catwoman continues to be a great title for Gotham. Who knew that an on-again, off-again villain and Batman lover would be so interesting as to have her own stories and successful New 52 title. You could see the actual character of Selina Kyle start to emerge under Nocenti's writing, as compared to all the action Catwoman from Winick's previous issues.