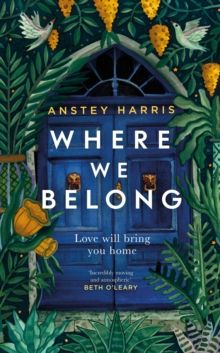 Description
*** The wonderful new novel from the acclaimed author of The Truths and Triumphs of Grace Atherton *** 'Incredibly moving and atmospheric, beautiful and complex' Beth O'Leary 'This beautifully written novel is not only absorbing and original, it will challenge preconceptions in the very best way' Katie Fforde 'A perfectly crafted novel: beautifully written, insightful and tender - it's simply stunning' Fionnuala Kearney 'Such a beautifully written and engrossing novel' Jacqueline Ward 'Riddled with secrets and lies, the love story shines like a beacon in the darkness and gripped me utterly . . . Superb!' Kate Furnivall 'Utterly enchanting' Heidi Swain 'I really enjoyed Harris's debut, The Truths and Triumphs of Grace Atherton, in which a woman shipwrecked by love find solace in instruments.
Here we are in similar territory of domestic and emotional difficulty...
Harris, with her crew of colourfully offbeat characters, navigates beautifully through the choppy waters of guilt, heartbreak and redemption.' Daily Mail One summer. One house. One family learning to love again. Cate Morris and her son, Leo, are homeless, adrift.
They've packed up the boxes from their London home, said goodbye to friends and colleagues, and now they are on their way to 'Hatters Museum of the Wide Wide World - to stay just for the summer.
Cate doesn't want to be there, in Richard's family home without Richard to guide her any more. And she knows for sure that Araminta, the retainer of the collection of dusty objects and stuffed animals, has taken against them.
But they have nowhere else to go. They have to make the best of it. But Richard hasn't told Cate the truth about his family's history. And something about the house starts to work its way under her skin. Can she really walk away, once she knows the truth?Praise for Anstey Harris 'Glorious on so many levels' A J Pearce, author of Dear Mrs Bird 'Full of hope and charm' Libby Page, author of The Lido 'A hymn to friendship, to getting back up and finding happiness where none seemed possible' Katie Fforde 'An indulgently emotional and beautifully written story about new starts' Daily Mail 'Brilliantly and movingly written' Dorothy Koomson'A beautifully tender portrait of the complexity of love, the depths of loneliness and the healing power of friendship' heat 'A gorgeously written, heartfelt tale about love and loss' Good Housekeeping 'Impressively powerful' Claire Frost, Fabulous Magazine 'As elegant and uplifting as a classical sonata, with added kick from its unforgettably quirky characters.
I was both engrossed in and moved by this fabulous debut' Catherine Isaac, author of R&J Book Club pick You Me Everything 'A moving, beautifully written, uplifting debut about mending broken hearts through friendship.
The twists and turns make it impossible to put down' Sarah J.
Harris 'What a total joy!' Fanny Blake 'This book was so different from anything I've read before... it was beautiful, uplifting and really taught me a thing or two ...
The characters are diverse, the setting beautiful and the subject matter unique' Fabulous Book Fiend 'An absolutely beautiful read' Heidi Swain 'I adored this book!
Exquisitely crafted, it's a compassionate, heart-wrenching and ultimately uplifting tale.
An absolute triumph' Fionnuala Kearney
Information
Format: Hardback
Pages: 384 pages
Publisher: Simon & Schuster Ltd
Publication Date: 14/05/2020
Category: Adult & contemporary romance
ISBN: 9781471173837