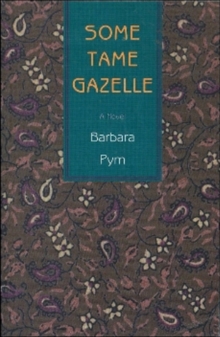 Some Tame Gazelle
Paperback
Information
Format: Paperback
Pages: 322 pages
Publisher: Moyer Bell Ltd ,U.S.
Publication Date: 14/03/1999
ISBN: 9781559212649
Other Formats
Paperback from £6.85
EPUB from £5.99
Free Home Delivery
on all orders
Pick up orders
from local bookshops
Reviews
Showing 1 - 5 of 10 reviews.
Previous | Next
Review by patience_crabstick
16/06/2015
One of my all-time favorites. Have read at least five times.
Review by Miro
16/06/2015
I agree with previous reviews that Barbara Pym's novel follows a "Pride and Prejudice" theme but with more subtlety and very fine observation. After finishing the book I felt that I knew these people and their village (or at least the "society" part of it) and thankfully (as with Jane Austen) the writer isn't troubled by the modern egalitarian obligation. Servants open and shut doors and cook the meals without becoming central characters.
Review by thorold
16/06/2015
Re-reading Barbara Pym is another of those pleasures that one feels one should ration out: I'm not sure why I allowed myself this one, but it's almost a year since the spell in hospital that was my excuse for the last re-reading session.This one, of course, is Pym's first published novel, and like <i>Crampton Hodnet</i> it has a largely circular form: curates are treated as a renewable resource, and the main characters are in much the same situation at the end of the book as they were at the beginning. As so often in Pym, the central theme is the pleasure of having someone to love, contrasted with the inconvenience that would result if one were obliged to live with the person one loves. The story is presented in a setting that is positively Jane Austenish in its compression (Belinda and Harriet's house, the vicarage, the church, and an occasional glimpse at the village street in between). It's conceptually difficult fitting the book into a time-slot &amp;mdash; possibly why some people describe it as "timeless". Pym originally completed it in 1935, but failed to find a publisher at the time, then revised it after the war and finally got Jonathan Cape to publish it in 1950. However, the book as originally conceived is also in part a projection of herself and her friends into an imagined future twenty or thirty years hence. What is clear is that we aren't supposed to read it as though it's set in 1950. Middle-class ladies of a certain age still employ servants, overseas travel is freely possible, Carlsbad is still called Carlsbad, Africa is still firmly colonial, and there is no hint of economic crisis and rationing. In fact, the characters talk so incessantly about food and clothes that one feels the book could only have been written during a time of hunger and shortages. All this is rather reminiscent of P.G. Wodehouse's books of the same period. The depressing modern world is something that has no place in escapist literature.On the other hand, we encounter the curate's underwear in the first sentence of the book, there are all sorts of jokes about people being offended by the mention of lavatories, and the "reinforced" corsets Harriet is sewing are forever being stuffed under sofa cushions when unexpected visitors arrive. There are characters who may (or may not) be gay. We are constantly being teased with the possibility of impropriety lurking below the surface of village life. If Pym is playing for the role of new Jane Austen here, it is with her tongue firmly in her cheek.
Review by rainpebble
16/06/2015
"Some tame gazelle, or some gentle dove:Something to love, oh, something to love!Quoted from page 17 of my edition of Some Tame Gazelle.I would call this a little comfy, cozy book and in the proper place and time I certainly do enjoy them as I did this one.The spinster sisters Harriet and Belinda live in a small village where it does seem that everyone knows everyone. Their world revolves around their churches, church life and especially the curates, archdeacons, and bishops. Harriet is much enraptured by the local curate whomever it may be at the time while Belinda is much more good works oriented.They, each one, had/have their chance at marriage but choose to remain spinsters sharing a home with a day girl as help. They are very comfortable in their lives in the gossipy little village deciding what to have for tea and dinner each day and when to invite the curate for tea or dinner. This is a little book in which not much of anything happens. Oh there is a wedding and a church garden party, etc. But we, for the most part, end up back where we began. In the little comfy, cozy home of the spinster sisters awaiting the next bit of gossip or the new curate coming for Sunday dinner.I quite liked the characters of this little book, excepting that of the archdeacon. I found him to be pompous, enamored with himself, rather cold and hurtful, but he did have a rightful place in the story. Had it not been for this character so many of the bits would not have been in place nor fallen into place.I enjoyed this read, recommend it for one in need of a comfy, cozy, easy read. You will enjoy it with a nice cup of tea. I rated it 3 1/2 stars.
Review by karensaville
16/06/2015
This was chosen because the author was described as one of the most under-rated novellists of a generation and my book club felt like we had been missing out on something. I'm afraid that none of us agreed. We all found it to be a book about nothing, we ploughed on relentlessly hoping it would get better but it didn't. I know it was meant to be about a provincial life where much is made of nothing and that that is the point of it but it was still a boring read. I thought that many of the characters were very unbelievable and I do not agree that she is like a modern day Jane Austen. Not for me or my club!