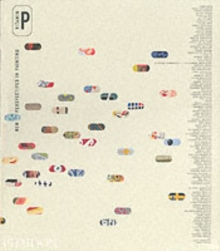 Vitamin P : New Perspectives in Painting
Paperback
Description
Vitamin P is an image-heavy book offering an overview of the state of painting today, and documents the most recent concerns and ideas among contemporary painters.
In the wake of new media such as installation, video, performance and digital art, the traditional medium of painting has enjoyed a renaissance among a recent generation of artists.
Alongside the evergrowing reputation of significant living painters such as Gerhard Richter, Agnes Martin and Peter Halley, many younger artists have chosen painting over any other medium, and are exploring new means to broaden the traditional field of "oil on canvas".
It is this younger generation (who emerged in the 1990s) that Vitamin P aims to represent in an A-Z survey of 114 of its leading, new, international practitioners, with each artist illustrated by numerous examples of his or her works, accompanied by a short explanatory text.
Often moving beyond the most traditional image associated with this medium, Vitamin P hopes to illustrate the richness, eclecticism, dynamism and contemporaneity of the practice of painting today.
Barry Schwabsky's introductory text offers a critical survey of the evolution of painting since the late 1950's
Free Home Delivery
on all orders
Pick up orders
from local bookshops