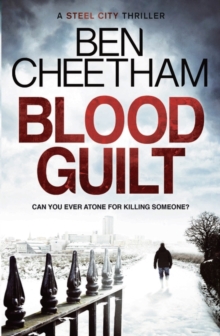 Description
'Last night, eight-year old Ethan Reed was abducted at gunpoint from his home by an armed intruder.
We are urging members of the public to get in touch.
A coordinated search of the local area will be carried out.'Four years ago, Detective Inspector Harlan Miller killed someone.
Now - divorced, alone, consumed by guilt - the world outside his prison walls holds little for him.
Until, mere days after his release, an eight-year-old boy is abducted.
Ethan Reed. The son of the man he killed. Frustrated by a police search that finds nothing, driven to desperation by repeated appeals that bring in no new leads, Ethan's mother knocks on the door of the man she has reason to hate most in the world.
She has one question to ask - beg - of Harlan Miller.
Find her little boy. Do whatever it takes.
Information
Format: Paperback
Pages: 304 pages
Publisher: Head of Zeus
Publication Date: 25/11/2013
Category: Crime & mystery
ISBN: 9781781852484
Free Home Delivery
on all orders
Pick up orders
from local bookshops
Reviews
Showing 1 - 1 of 1 reviews.
Review by atticusfinch1048
16/06/2015
Sheffield Finally Got InterestingBlood Guilt by Ben Cheetham the debut novel from Sheffield is a gritty, sometimes dark and brooding crime thriller. This book in a way reminded me of the American use of an anti-hero who wants to put right the things he has done wrong and that is what marks this out as a different sort of crime novel. Our anti-hero of this novel is the former Detective Inspector Harlan Miller who also happens to be now an ex-con with no future and more baggage than one person can handle. There is also the excellent use of the "what if" which we all do in our mind, but this "what if" hangs like Damocles Sword over Harlan Miller's head.All Harlan Miller wants to do when he is released on licence from prison is someway say sorry to Susan Reed for what he did to her and her family and try and put things right. As someone that is convicted of manslaughter killing her husband ways heavily on Harlan and he cannot move on. He knows he cannot approach her he cannot have any real contact with the family of the Rob Reed, but he does try and fails.He is give the opportunity for some form of redemption when Ethan Reed goes missing and the police seem to have no leads and no fresh idea, when Susan Reed knocks on Harlan's door and asks him to investigate a local sex offender who is a known child abuser. When another child disappears in Manchester it looks like the work of the same person and Harlan goes in to full investigation mode. He is able to use techniques the police cannot and he does this to the best of his ability. Through his investigation he opens up a whole new dark world that people would fear if they ever found out.At the same time of uncovering this unspeakable world with characters nobody would want as a neighbour he gets stabbed, knocked out and shot at. Somehow he manages to survive whether he can take all the twists and turns in the investigation is, another matter. Does the thriller end in a successful resolution? Well you will have to read the book and find out!Cheetham has written a wonderful crime thriller that uses the minimum amount of descriptive text that gives maximum punch. There are no wasted words or trying to draw the story out to make it last too long. This is blast of how to write a crime thriller while being the clichéd page turner keeping the reader wanting to know how it ends and want to read the next page as there may just be a clue there as to who took Ethan Reed. I cannot recommend Blood Guilt highly enough this is a fantastic crime thriller.
Also in the A Steel City Thriller series | View all