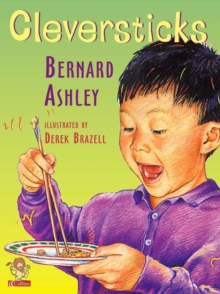 Description
Ling Sung doesn't like school. The other children can do things that he can't. But Ling Sung soon finds out that there is something very special that only he can do...Terry can tie up his shoes - Ling Sung can't.
Manjit can write her name but Ling Sung's letters go all wrong and Sharon can button up her coat perfectly.
Ling Sung doesn't want to go back to school every again.
But the next day at biscuit time Ling Sung does something amazing...He uses two paintbrushes as chopsticks to pick up the biscuits.
This is something that no-one else can do, not even the teachers, and Ling Sung feels very special indeed!
Information
Format: Paperback
Pages: 32 pages
Publisher: HarperCollins Publishers
Publication Date: 03/11/1993
Category: Picture books
ISBN: 9780006638551
Free Home Delivery
on all orders
Pick up orders
from local bookshops
Reviews
Showing 1 - 1 of 1 reviews.
Review by lisa_tugmon
16/06/2015
This book is about a boy named Ling Sung. He doesn't like his new school and is very discouraged at the fact that all of the other students get praise for things that they are good at. Ling Sung tries to do the things that they can do but he simply cannot succeed. The teacher notices Ling Sung doing something special one day. He is picking up his broken pieces of cookie with paint brushes as if they are chopsticks. The teacher praises him for this and encourages him to show everyone else in the class how to do it.I thought this book was very cute. It would definately be a good book to read to children when they start going to a new school or when chidren are feeling down and out because they cannot do something. I think that most children would appreciate it because at some point or another all children get frustrated at the fact that there is something that they cannot do and someone else can. Classroom Extension #1: Bring a set of chopsticks for each child and show them how to use them. Give everyone some type of cookie or candy and let the children try to eat it using the chopsticks.Classroom Extension #2: Have the children write a few sentences about one thing that they feel that they are good at and a few sentences about something that they wish that they could do. Have a few children come up to the front of the class and show everyone one thing that they can do well.