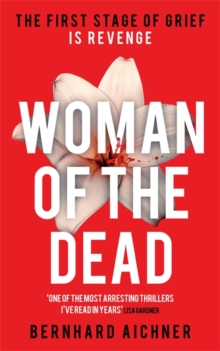 Woman of the Dead : A Thriller
Hardback
Description
One of the Financial Times's top summer books for 2015One of the Telegraph's Best Crime Fiction Books for 2015'An ironclad guarantee of sleepless nights' INDEPENDENT'One of the most arresting thrillers I've read for years' LISA GARDNER'Fast, edgy and gripping...full of quirks, with a conflicted heroine as killer at its heart.
Do not miss it.' GEOFFREY WANSELL, DAILY MAIL'Aichner has a talent for keeping readers hooked - this is a gripping read and the character of Blum lives long in the mind' TELEGRAPH'An inventive, forceful, engrossing revenge thriller' MARCEL BERLINS, TIMES'Blum is a great character and when Aichner's ghost-train plot ends in the only place it can - a crematorium - you feel like cheering' GUARDIANHow far would you go to avenge the one you love?
Blum has a secret buried deep in her past. She thought she'd left the past behind. But then Mark, the man she loves, dies. His death looks like a hit-and-run. It isn't a hit-and-run. Mark has been killed by the men he was investigating. And then, suddenly, Blum rediscovers what she's capable of...KILL BILL meets DEXTER via THE GIRL WITH THE DRAGON TATTOO, WOMAN OF THE DEAD is a wild ride of a thriller where the first stage of grief is revenge. And revenge is a dish best served bloody.
Information
Format: Hardback
Pages: 272 pages
Publisher: Orion Publishing Co
Publication Date: 09/04/2015
Category: Crime & mystery
ISBN: 9780297608479
Other Formats
Paperback from £7.25
EPUB from £2.99
Free Home Delivery
on all orders
Pick up orders
from local bookshops
Reviews
Showing 1 - 2 of 2 reviews.
Review by natsalvo
16/06/2015
Revenge is a dish best served cold in Bernhard Aichner's crime novel, "Woman of The Dead". The book was a huge success in Europe and Anthea Bell has done a good job in translating this story from its original, German text. But something may have been lost in translation because what's left behind is quite cold, clinical and gory (and often just for the sake of it).The story stars an unlikely but strong female protagonist; she's a mortician, widow and mother named Brunhilde Blum. She had had an idyllic life with her husband Mark until he was tragically killed in a hit and run accident. Blum decides to delve deeper into her husband's life because she suspects that his death was a murder. Over time the lines between investigation and revenge become blurred.One of the biggest problems with this novel is that it's hard to relate to Blum. In the opening chapters she kills her parents because she claims she was abused. Unfortunately, Aichner fails to provide enough of a back story and justification for this unconscionable act. So while the character is a strong and determined woman, at times she is difficult to engage with, especially as she rediscovers what she is really capable of.The story sees Blum also investigate the crimes perpetrated against an illegal immigrant named Dunya. The latter had been subjected to years of physical and sexual abuse and held hostage in a cellar by a group of five men known as the: photographer, huntsman, priest, cook and clown, respectively. The methods Blum uses to discover the identities of these men seem improbable and unbelievable as the story just clicks into place a little too easily. The narrative itself is also not as thrilling or gripping as other books from this genre, as these can often be hard to put down."Woman of The Dead" has an interesting-enough premise as it poses the question, "How far will you go in order to avenge a loved one?" It also has a strong female protagonist, which is commendable. But this character is also quite a flawed one and the writing is too repetitive and staid for it to really cut through. This novel may be full of dark secrets, sex and revenge but there is still a little spice or something missing, meaning it's a good book but not a great one.
Review by MyExpandingBookshelf
27/08/2015
I received a copy of Woman of the Dead through Goodreads Firstreads.I really enjoyed Woman of the Dead. Once again it is the first time I've read this type of thriller/mystery and I can definitely say I will read more of them. I haven't watched/read any of the shows/films/books that Woman of the Dead has been compared (yet) to so I've no idea if they are great comparisons. Though I have a gut feeling that they may be quite similar.The events of Woman of the Dead are told in the third person point of view following the character Blum. You are with Blum the whole time as she figures out who each of the men are. Therefore, we don't really get to much insight into what the other characters are thinking and this adds to the mystery. I also felt that the twists to the story added to it's unpredictable nature and I was completely taken by surprise when the identity of the final man was revealed. The conclusion was definitely climatic and everything tied together nicely. I was sitting on the edge of my seat as I read.The chapters were also quite short - around 4 to six pages but some as short as 2 pages. This gave the illusion that it was fast paced yet still included great descriptions. Woman of the Dead was also a fairly easy read as the language used was quite basic and easily understood. This is probably due to the translation of the story from German.I also had an odd experience with the character Blum. I really liked her yet she was a complete and utter psycho. Her secret, which is actually revealed in the prologue, is something I found really shocking. And her revenge is just so gruesome (and brilliantly described). Her job as an undertaker also provides her with the resources to commit the perfect act of revenge in quite a terrifying manner. Yet it is clear that Blum has so much love for her husband, Mark, and children, Uma and Nela. She is devastated when Mark is killed and is almost comatose in the days following his death. It is clear that Blum has amazing support behind her during this tough time, especially from her father-in-law, Karl, who helps take care of the children despite his old age and her assistant, Reza, who keeps her business running whilst she grieves.I would definitely recommend Woman of the Dead. Particularly to those who love a good thriller/mystery.
Also by Bernhard Aichner