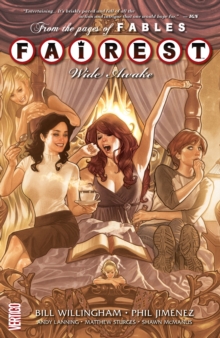 Fairest Volume 1 TP
Paperback
Description
New York Times bestselling, award-winning creator Bill Willinghampresents a new series starring the female FABLES.
Balancing horror,humor, and adventure in the FABLES tradition, Fairest explores thesecret histories of Sleeping Beauty, Rapunzel, Cinderella, The Snow Queen,Thumbelina, Snow White, Rose Red, and others.
The first 6-issue tale follows themisadventures of Briar Rose immediately after the events of FABLES #107,in which she was stolen away by the goblin army.
Following this firstcollection, Willingham will serve as a consultant on all story arcs andintroduce new writers from other mediums to the FABLES mythos.Fan-favorite artist Phil Jimenez (Wonder Woman, TheInvisibles) returns to Vertigo to pencil the opening storyline. Award-winning cover artist Adam Hughes (Wonder Woman, Batgirl)provides covers, starting with a wraparound cover on issue #1 that spotlightsthe lovely ladies who will star in the series.
Information
Format: Paperback
Pages: 144 pages
Publisher: DC Comics
Publication Date: 27/11/2012
Category: Fantasy
ISBN: 9781401235505
Free Home Delivery
on all orders
Pick up orders
from local bookshops
Reviews
Showing 1 - 5 of 13 reviews.
Previous | Next
Review by craso
16/06/2015
Ali Baba finds a magic bottle that he rubs hoping that a genie will appear and grant him three wishes. Instead he gets a wisecracking American pop culture spewing bottle imp. The imp is full of information. He tells Ali that a beautiful woman is sleeping in a goblin camp. If he steels past the goblins and kisses her he will bed her and wed her and receive all of her wealth. Ali sneaks past the goblins and reaches the fair maiden only to discover there are two beautiful sleeping women. Who should he kiss? Both of course, but why did he pick the snow white girl first? Who are these beauties and why have they both been put in an enchanted slumber?This graphic novel is a new comic series from the writer of "Fables". In this installment we learn Briar Rose's, a.k.a. Sleeping Beauty's, origin story which includes the fairy godmothers and the evil fairy that curses her to die when she pricks her finger. Actually, she doesn't die when she pricks her finger; she falls asleep along with everyone in close proximity. We also meet the Snow Queen, a beautiful snow white witch who holds Ali and Briar Rose hostage to listen to the bottle imps tales.This story doesn't take place in the mundy world like most of the "Fables" graphic novels I have read. This one takes place in the Fables magical homeland. The charm of the "Fables" series comes from meeting these fairytale characters living as normal humans in our world. There are some cute moments when Briar Rose relates how the gifts that were given her by her fairy godmothers worked out in the mundy world. The art work of the main story is beautiful. I can't say the same for a strange little story tacked on the end about Beauty and the Beast. Otherwise, I recommend this graphic novel to "Fables" devotees and look forward to the next story arc involving Rapunzel.
Review by GirlsonFire
16/06/2015
This is Vol. 1 of the third spin-off series of Fables. It is going to be a series of side stories lead by the female powerhouses of the Fables universe. It is still being written by the brilliant Bill Willingham, so it will be both enjoyable on its own and enriching for established Fables fans.
Review by Brian.McGovney
16/06/2015
The final, stand-alone story here is by far the best!
Review by LaneLiterati
16/06/2015
Surprisingly great. A must-read for Fables fans, and I found it a lot easier to read than I do the Fables series. I could see this being more suitable for teens, than Fables is. Surprisingly enjoyed this one. The art is phenomenal, and it reads a lot faster than Fables does.
Review by Kurt.Rocourt
16/06/2015
This is not a story about girl power. That's what some people might by looking at the cover. It's actually a story about the Snow Queen and Briar Rose. We get an explanation on the rules of true loves first kiss. The thing I enjoyed about this is how it keeps what you love about Fables and keeps it going. You do need to know the other stories in the Fables universe to understand the story. But if you don't you can enjoy the story only to a point though.