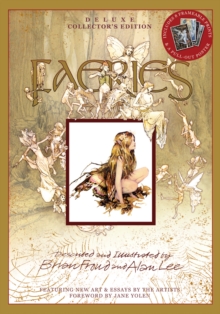 Description
A quarter of a century after its initial publication and with well over a million copies in print worldwide, Brian Froud and Alan Lee's Faeries is an unquestioned classic.
Now, Froud and Lee return to their most enduring and beloved work, in this Deluxe Anniversary Edition.
This ultimate collector's item includes eight frameable, limited edition prints as well as a signed facsimile of a personal letter from Brian and Alan.
The book also includes 8 original, new pieces of art by Froud and Lee as well as the remarkable pencil drawings and watercolours of mythical creatures from faeries and goblins, to leprechauns and dwarves that started it all.
Accompanied by brief descriptions of each creature's origins and powers, the images are enchanting and full of magical detail.
More than just a reissue, this deluxe revised and updated edition also contains essays from both Froud and Lee on the influence of Faeries and an introduction by a name author in the Faerie community.
The remarkable package will be a delight to fans of the previous title and those who are just discovering this stunning book for the first time.
Information
Format: Hardback
Pages: 224 pages, 200 color and black-and-white illustrations
Publisher: Abrams
Publication Date: 14/09/2010
Category: Fantasy
ISBN: 9780810995864
Other Formats
Dumpbin - empty from £12.95
Hardback from £10.25
Free Home Delivery
on all orders
Pick up orders
from local bookshops
Reviews
Showing 1 - 4 of 4 reviews.
Review by TiffanyHickox
16/06/2015
Well, I have been checking this book out over and over from the library since I was a little girl, but I mainly would look at the pictures and read a caption or two. I finally decided to sit down and read the book front to back, and it was sublime! It made me long for a time when the world was mystical and full of mystery and magic instead of science and technology. And the art is just absolutely beautiful.
Review by LarissaBookGirl
16/06/2015
Whether we are aware of it or not faeries have, for as long as can be remembered, always played a part in the daily lives of men, women and especially children. For as far back as can be remembered there have been stories, ballads and legends of faeries and their ability to connect with the nature on the planet and the nature of man. Though not always with the most desired of results, for as many stories as there are of faeries bringing messages of love and friendship there are also stories of torment and death.It is perhaps the dualistic nature of these elusive beings that has drawn so many to them and their kind over the years. Within these pages the history, wisdom and playfulness of faeries can be explored, and hidden within each image beauty and inspiration are found. But whether your seeking wisdom, inspiration, or just a simplistic beauty in their existence, Fairies is a guide to the impossible made possible, the magic in wonder, and to a race of beings who, having always existed, are seen not through the eyes but through the heart and mind.Faeries, thirty years after the original, has been done up all new and golden, but there is more to this book then just a new cover. Inside this deluxe edition you will find more images, more stories and more faeries to take you deeper into the world of faery then you have ever been before. This magical book has so much to offer whether you are just curious about faeries, whether you are an avid faery lover, or whether you are seeking guidance from those elusive and captivating creatures. Not only a must for Brian Froud and Alan Lee fans but also for those with a passion for the faeries and for beautiful art.
Review by Bcushman
16/06/2015
A stunning look into the world of faeries brought to you by the incomparable Brian Froud and Alan Lee. Not only is it visually stunning but the "history" of Faeries contained within is fascinating. It is a must have for any fantasy lover.
Review by Xleptodactylous
16/06/2015
Whilst the other book I've read like this (Goblins!) might have been rather child-orientated and lack-lustre, this one definitely isn't. It has beautiful drawings that make me want to punch everyone around me for being so good, and the information is genuine folklore fact (if such a thing exists).