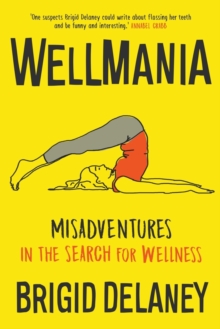 Wellmania: Misadventures in the Search for Wellness
Paperback / softback
Description
Cold-pressed juices, quitting sugar, Paleo, hot yoga, mindfulness a if you embrace these things you will be happy, you will be well - just ask Instagram. Wellness has become a global mega-industry. But does any of this stuff actually work? Feeling exhausted, anxious and a bit flabby, journalist Brigid Delaney decides to find out -using herself as the guinea pig.
Starting with a brutal 101-day fast, Brigid travels the world to test things that are meant to make us clean, lean and serene.
She tries colonics, meditation, silent retreats, group psychotherapy and oodles of yoga, working out what is helpful and what is just expensive hype. In monasteries and health farms, on hiking trails and massage tables, she asks, why do so many of us swing from indulgence to detox and back again?
Is it possible to integrate good habits into your daily life?
What does our obsession with wellness say about us? And why do you smell so bad when you haven't eaten in seven days? Wellmania is the highly entertaining and occasionally dangerous exploration of one of the most fascinating trends in our culture. 'Brigid Delaney is the queen of calamity and a fearless, sane guide into the bizarre heart of our modern obsessions.
This will make you groan in horror as much as it'll make you laugh out loud.' - Benjamin Law 'A bloody entertaining read that leaves you wondering whether you want to do yoga and meditation or get mindlessly drunk and despair at the state of the world.
Basically I wish that I'd written it.' - Judith Lucy 'At last!
A funny, well-written book about all the health and serenity treatments you've been too feeble personally to undertake.' - Annabel Crabb
Free Home Delivery
on all orders
Pick up orders
from local bookshops
Also by BRIGID DELANEY