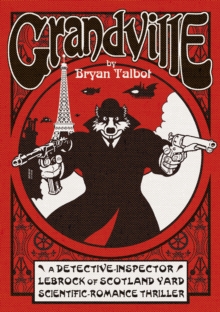 Description
In Grandville, the first volume in the series, Talbot brings us a steampunk masterpiece.
IIt tells the story of detective Inspector LeBrock of Scotland Yard as he stalks a gang of murderers through the heart of Belle Epoque Paris.
In this alternative reality France is the major world power and its capital throngs with steam-driven hansom cabs, automatons and flying machines.
The characters are mostly animals, though there is an underclass of humans, often referred to as 'dough faces'. Visually stunning, Grandville is a fantastical and audacious rollercoaster ride that will add to Talbot's reputation as one of the best graphic novelists in the world.
Information
Format: Hardback
Pages: 104 pages
Publisher: Random House Children's Publishers UK
Publication Date: 15/10/2009
Category: Science fiction
ISBN: 9780224084888
Other Formats
Hardback from £12.35
EPUB from £7.99
Free Home Delivery
on all orders
Pick up orders
from local bookshops
Reviews
Showing 1 - 5 of 6 reviews.
Previous | Next
Review by othersam
16/06/2015
I knew I was going to enjoy Grandville before the first book came out. It wasn't "just" the dapper-dressed gun-toting badger on the cover, nor even because the art and writing are by British comics legend Bryan Talbot, but because I was already a fan of the artist whose work inspired the series and whose nom de plume provided its title.From the Grandville of the nineteenth century's wonderfully bizarre images of animals acting like humans Talbot has woven a fizzingly imaginative alternate world, in which animals rule and humans (or "doughfaces" as we're known) are reduced to underclass status. Down the streets of a gorgeously rendered steampunk Paris stalks hard-bitten Detective Inspect LeBrock, battling evildoers of every stripe and species with the help of his faithful partner and friend Roderick Ratzi.If you find the idea of animals punching each other, stabbing each other or blasting ten bells out of each other with large calibre guns off-putting or upsetting, maybe this series isn't for you. The Wind in the Willows this ain't: the Grandville books are dark, gritty and surprisingly violent. They're also wildly thrilling and enormous fun. In the latest volume, Bete Noire, LeBrock /not only/ has to stop an army of machine-gun-packing robots, he /also/ has to foil a dastardly capitalist conspiracy to suppress figurative art and replace it with abstract expressionism! For those who notice, these books are stuffed with witty references to other works, other ideas - but never at the expense of a cracking good story. I think these books are terrific. I hope you will too.
Review by theforestofbooks
16/06/2015
I need to read this again and absorb the story in more detail (it's that sort of tale) before really commenting. For now all I can say is I loved it to bits. Can't remember reading a book, or in this instance, a graphic novel where I just smiled at the turn of a page. Four stars but may well be five after another re-read.
Review by wyvernfriend
16/06/2015
In a world where animals rule, two hundred years ago Britain lost the Napoleonic War and like other European countries it's royal family were gillotined. 23 years before England got her independence but there are still issues.Not least of which is the sudden death of Raymond Leigh-Otter, a death that looks like suicide but Inspector LeBrock of Scotland Yard isn't convinced and his investigation brings him to Grandville, or Paris as we would know it. Dragging him into conspiracy and more dead bodies. A world with steampunk touches and some great artwork.Not the first Bryan Talbot I've read, this was interesting and touching and rather cool. I liked the characters and the names gave me an occasional giggle.
Review by ljbwell
16/06/2015
[Grandville] is a visually stunning steampunk graphic novel. Detective-Inspector LeBrock of Scotland Yard arrives in Paris from Great Britain to investigate the apparent suicide, but actual murder, of Raymond Leigh-Otter. His investigation uncovers several more non-suicides as powerful officials attempt to cover up their past deeds. The book takes place in an alternate history, where Great Britain, after the Napoleonic War, became a part of the French empire and only recently gained independence after civil disobedience and anarchic uprisings.Each of the characters is an animal - LeBrock a badger, Leigh-Otter an Otter, LeBrock's sidekick is Ratzi (a rat), Prime Minister Jean-Marie Lapin (rabbit). In fact, humans are called "doughfaces" and are lower on the evolution scale and not given rights as citizens. There are some quirky references to European comics - Bécassine and Milou/Snowy, for example, make appearances (Milou's being a bit more off-character & disturbing).I have railed in the past against books that feel the need to have some sort of 9/11 and Iraq War allegory/tie-in/parable. Here again, it was unnecessary; the steampunk, belle époque setting for a fun noirish Scotland Yard-in-Paris crime story was enough. That said, I am willing to overlook it in favor of the absolutely gorgeous graphics and scenes.
Review by Heather123456789
16/06/2015
~This book is a must read, and the period of the plot is understandable through the early rivalries between Britain and France. It has continuous gore and adult humour throughout the book, and it grips the reader to make them feel every part of the book is so amazing. The resemblance between animals and humans are extraordinary, taking into account that each person in the world has a similarity with a particular animal. I am sure that me and you, the person who is reading this, feels that Bryan Talbot is very creative in his style of writing, and I personally praise him for his efforts on this truly great masterpiece in the world of graphic novels. I recommend that you also read the sequel to this; Grandville Mon Amour, because it will be as equally brilliant and likeable as this book, GRANDVILLE!!!Grandville is about this detective badger who investigates crimes. This particular case that they are investigating is in Britain, where a man is commiting sa suicide. They have to find out the killers, but it may not be as easy as expected.....
Also in the Grandville Series series | View all