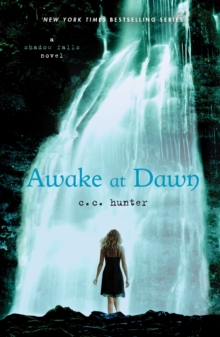 Awake at Dawn : A Shadow Falls Novel
Paperback
Description
Now that she's settled in at Shadow Falls Camp, Kylie Galen's determined to discover the extent of her supernatural abilities.
But with a ghost insisting someone Kylie loves is about die and a rogue vampire on a murdering rampage, Kylie's quest for answers is quickly put on hold.
To make matters worse, just when she's about to give her heart to Derek, he starts growing distant. And when Lucas, a werewolf with whom Kylie shares a secret past, returns, Kylie's feels more conflicted than ever.
But she'll need both of their help, because someone from the dark side of the supernatural world has plans for Kylie - and it'll take all her resources to stay alive...
Information
Format: Paperback
Pages: 400 pages
Publisher: Griffin Publishing
Publication Date: 11/10/2011
Category: Fantasy
ISBN: 9780312624682
Free Home Delivery
on all orders
Pick up orders
from local bookshops
Reviews
Showing 1 - 5 of 19 reviews.
Previous | Next
Review by pacey1927
16/06/2015
I was completely captivated by the first book in this series and I am happy to report that "Awake At Dawn" was at least as good. This book is very much a continuation of the first book and probably wouldn't be enjoyable as an entry point to the series. Kylie is still trying to discover what supernatural she is. She is trying to convince her mom to let her stay at Shadow Falls when it goes from a camp to a year round school. And she is trying to forget Lucas and forge a relationship with Derek. Kylie is suddenly coming into more powers. And someone is murdering girls in town and it maybe somehow be connected to Kylie.The characters make this series. What a fun concept! A supernatural camp, where there are vampires, werewolves, shifters and more. This leads to all types of jinx and amusing interactions. Kylie's two roomates are wonderful additions to the series. There is witchy Miranda and vampire Della who are always at odds but care for each other very much. Being a group of teenage girls ensures plenty of romantic drama. Several reviewers think this book is slow to start but I enjoy the day to day lives of the characters enough to be fully entertained at all times. There are some laugh aloud scenes as well.Kylie and her friends feel like realistic teenager. I like that the kids always have consequences to face for their actions. And I am on team Derek even though I think I may have chosen the losing side. He just seems like a good guy and he doesn't want to play games. Lucas seems to thrive on games but he comes through for Kylie each time. Holiday and her kinda romance is also an intriguing side plot. The story leaves us hanging quite a bit. I was not all the way satisfied with the ending of the story. This can turn a lot of readers off but I know I am hooked enough that I will grab up the next installment.
Review by SupaGurlbooks
16/06/2015
This second book in the Shadow Falls series is captivating! I started it and could not put it down. At 2am when I finished it I let out a sigh... This story, no this world that is Shadow Falls is AMAZING! I thoroughly enjoy all the characters and the story line. A new ghost, new feelings, and new developing powers!!! What is Kylie?? well not quite sure yet... but whatever she is, she is the BOMB! I have to confess I am all into Lucas and well there was not a lot of him, but when there is he is front and center and will grab your attention. Don't get me wrong I do like Derek...but I was just immediately drawn to Lucas. There are some really great Derek moments though. If you haven't had the chance to pick up this series WHAT ARE YOU WAITING FOR???
Review by snazz
16/06/2015
I was almost afraid to read this novel because I've been through a lot of let downs with second books in series. But I'm so happy I read it because CC Hunter managed to maintain all of the amazing elements of the first book and even introduced a few more. For one thing, Kylie experiences tons more manifestations of her powers. While I know we'll probably have to wait until the final book to find out exactly what she is, I don't feel like the author is playing "hide the ball" with us. And the answers we do get are very satisfying. Another great thing is that there is also a complete resolution with the new ghost haunting Kylie. In this way Awake at Dawn is both self contained and part of a larger story. Which sounds simple, but I appreciate it a lot. I will admit that Born at Midnight was better, but this one is only slightly less amazing. In the first one the romance was hotter and the story was shiny and new, which added a higher level of fascination for me. But definitely read Awake at Dawn. You won't regret it.
Review by yabotd
16/06/2015
I was in the mood for a story with a heavy romance/sexy vibe. Since <i>Born at Midnight</i> satisfied that urge several months ago when I first read it, I figured <i>Awake at Dawn</i> by C. C. Hunter was a good pick.It was and it wasn't.Don't get me wrong. I really enjoyed the book. This is the type of book that I literally fly through. It's not the most amazing literary writing I've ever read, but it doesn't claim to be. It's a fantasy romance, not literary fiction. There's tons of fun fantasy creatures, teenage friends and humor, and also a good mystery brewing. Oh, and did I mention the sexy angle? Because it definitely has that. It's not just the romance pairings that make it sexy, it's even the situations the character gets into and the language used.My disappointment comes from two sources:1) Lack of Lucas2) Rushed climaxOkay, let's start with Lucas. Lucas is the super hottie werewolf that was friends with Kylie when she was young. He left partway through Born at Midnight and I've been morning his absence ever since. He doesn't show up till well into the story, though there are some signs of him throughout via letters, dreams, and memories. While I enjoy reading about Derek and Kylie (who wouldn't?), Kylie seems to always have Lucas on her mind. Which makes me have Lucas on my mind. I think <i>Awake at Dawn</i> suffers from Book 2 Syndrome. To increase tension and not completely satisfy readers (if we were completely satisfied, there'd be no reason for book 3), the romance stuff in Book 2's tends to be jumbled or lacking. That's what I felt happened here. There's a decent about of romance and sexiness, but I get the sense it's with the wrong person, and the book was front-loaded. Good sexiness in the beginning, but it faded as the book continued.Then, there's the ending. Throughout the book, anticipation builds with this mystery that Kylie thinks someone is following her. The tension grows till you almost can't handle it anymore. Then, the whole climax was rushed. We could have spent much more time with Kylie during the climax. So much was going on and it was over almost before it got started. To me, the climax would've had even more tension if it was stretched out a bit, and all the tension and anticipation that had been building throughout the story would have been more satisfying with more page space. That said, the ending itself wasn't rushed.What the story didn't lack was interesting fantasy creatures and abilities. Kylie's still trying to figure out what she is and I'm right along with her. She gains some interesting new abilities that will keep me guessing until I can get my hands on <i>Turned at Dusk</i>. I really enjoy the setting of a camp full of fantastical creatures, each with their own rituals and customs. Beyond that, all the characters have their own quirks and habits, making them well-rounded.Overall, this was a fun, quick, sexy read. It didn't completely satisfy my mood, but I'm hoping that's just because it's a Book 2. I'm seriously hoping <i>Turned at Dusk</i> gets the romance back on track and we finally get some answers about Kylie!<b>Final thoughts: If you're into fantasy romance reads, it's worth buying. If not, borrow.</b>
Review by JacquieT.
16/06/2015
What can I say about C C Hunter's stories? Fabulous!!! I stayed up all night not being able to put this book down. There is so much I want to tell about this story but I would give so much away and then you wouldn't have to read it. There is nothing but love for Miranda. She is a hoot. I wish I had a friend like that that could make me laugh at her crazy witchery and mistakes. Socks is still around and he has plenty of tricks of his own. Kylie still lives in the world of "I don't know who or what I am" but discovers she has a lot more to give of herself than she thinks. And then, the tug of war of Derek and Lucas of who does she want to be with. Has Holiday met her match? Definitely a story you can truly love with the characters that can make you laugh, worry you, and make you cry. When is book #3 coming out? I can't wait for it.