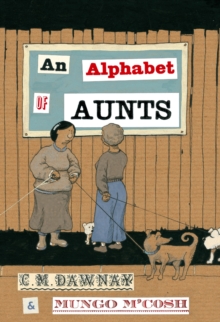 An Alphabet of Aunts
Hardback
Description
Aunts have not had their due recognition - until now.
But here, in the simple tasks and pleasures of her ordinary life, the aunt is portrayed with wonder and affection.
Starting with the Ambulant, walking her dogs past G.F.Watts' statue of Physical Energy in Kensington Gardens, this book describes her in twenty-six beautifully observed portraits, one for each letter of the alphabet.
Here is the Elegant on the catwalk; the Hydrant, watering her garden; the Indignant, watching those same plants being dug up by the ubiquitous canines who are so much a part of her life; the Mendicant, begging outside Daunt's bookshop; the Osculant, indulging in the pastime that aunts do best; the Ruminant, eating salad in her lonely cafe, not to forget the Truant, shamelessly sporting semper absum on her school blazer.Each picture, meticulously drawn by Mungo McCosh, is followed on its subsequent page by the name of the aunt the picture describes.
Beautiful and aptly chosen lettering tells us who she is - in case we can't guess for ourselves.
A book of wit and wisdom, for nieces and nephews, aunts and uncles, everywhere.
Free Home Delivery
on all orders
Pick up orders
from local bookshops