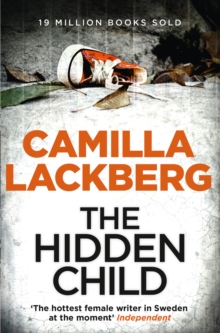 The Hidden Child
Paperback
Description
No. 1 international bestseller and Swedish crime sensation Camilla Lackberg's chilling psychological thriller featuring Detective Patrick Hedstrom and Erica Falck - irresistible for fans of Stieg Larsson and Jo Nesbo.Crime writer Erica Falck is shocked to discover an old Nazi medal among her late mother's belongings.
Inspired to dig deep into her past, she visits a retired history teacher for answers.
Two days later, he's dead.Detective Patrik Hedstrom is on paternity leave.
But his wife's enquiries appear to have set off a chain of murders and he's finding it hard to keep out of the investigation.A terrible secret from the darkest days of World War II is coming to light - and their families' histories are right at the heart of it.
Information
Format: Paperback
Pages: 400 pages
Publisher: HarperCollins Publishers
Publication Date: 01/06/2011
Category: Crime & mystery
ISBN: 9780007419494
Other Formats
EPUB from £6.49
Paperback from £9.99
eAudiobook MP3 from £13.59
Hardback from £15.85
Free Home Delivery
on all orders
Pick up orders
from local bookshops
Reviews
Showing 1 - 5 of 7 reviews.
Previous | Next
Review by teresa1953
16/06/2015
This is the fifth in a series of novels by Scandinavian writer Camilla Lackberg. Detective Patrik Hedstrom is on paternity leave, caring for young daughter Maja, whilst his crime writer wife, Erica Falck, is attempting to complete her latest book. Erica becomes distracted when she discovers a war medal, a blood stained baby's shirt and diaries belonging to her late mother in the attic. She decides to take the medal to a local historian Erik Frankel in the hope he can shed more light on it's origin. Strangely, he seems awkward and slightly dismissive with Erica when she mentions her mother's name. Two days later, Erik is found murdered.Thus begins a complex and riveting story which switches from the present day to the 1940s and the Second World War. Erica's mother, Elsy, was always distant and cold towards Erica and her sister Anna and Erica finds it hard to equate this personality with the sweet and kind young woman portrayed in the diaries. As Patrik finds it hard to keep away from his police station and the ongoing investigations, it becomes clear that there is a strong link between his wife's mother and Erik Frankel. Not only that, other childhood friends, including Erik's brother Axel and a woman named Britta all seem to have secrets to hide. When Britta is found murdered, there is no doubt that coincidence is not at play here.I particularly enjoyed the way Camilla Lackberg weaves ordinary domestic scenes in to the thriller element of her novel. She also writes about very relevant topics such as the rise in Far Right Neo Nazism in Scandinavia, seen recently in the shocking massacre in Norway. Some of the translation could have been sharper and there was one small loose end ( the strange behaviour of a local librarian) which wasn't resolved……which was a pity because the rest of the storylines are brilliantly brought together at the conclusion of the book. In summary, a very well written psychological thriller which made me want to read the previous four books. This book was made availble to me for an honest review.
Review by herschelian
16/06/2015
I love the crime writing from Scandinavia, and this Swedish mystery is a cracker.
Review by aimelire
16/06/2015
Wow! Gift from a student (merci Mélanie!) This book is written by a famous Swedish author. Not the first from the series, but not a problem. The main character is a writter who finds her dead mother's trunk of souvenirs inside which has a baby's shirt and a medal from the Second World War. Great mystery story, and it was interesting hearing about the Europeen side of WW2. It humanizes German people. I was never sure (until the very end) who was the guilty person and the motive for the crime.
Review by ebyrne41
16/06/2015
The fifth book in the series featuring husband and wife pair (detective) Patrik Hedstrom and (writer) Erica Falck, this story hops back and forth between the present and the 2nd world war, involving war diaries, a nazi war medal, secrets from the past, murder and of course relationships. But I endured rather than enjoyed this book, the writing is rather basic, the characters uninteresting, the dialogue often cringing, there are too many clichés, too much sentimentality and there is far too much domestic drivel for my taste. Enough of nappies, winking adults, pushing prams, the author seems infatuated with it all. Sorry, I try not to be too critical when a book doesn't do it for me, but while I thought better of her previous books (3 to 3.5 stars), I just can't find anything particularly good that stands out about this one.
Review by JEB5
16/06/2015
When Erica Flack finds a chest with childhood drawings, a few old diaries, a bloody baby shirt, and a WWII German medal she begins to wonder why her mother hid these things together in a dark corner of the attic. She hopes that by reading the diaries she will discover why her mother was so reserved and withdrawn from both her and her sister's lives. Now she must use all her abilities as a writer to investigate her own famiy's past. Surprises are numerous when Patrik becomes involved with a murder case while on paternity leave that seems to be connected to Erica's own investigation.Ms Lackberg continues her successful Fjallbacka/Hedstrom series with another stunning tale of murder, history, family, and the ties that bind. This novel is a perfect example of how she can take the everyday and make it into an interesting mystery that remains believable. If read in order, her series is a cohesive look at life in Sweden. Her writing is domestic in a way that readers are able to relate to and feel like they are a part of the family, friends, and culture. This novel is just another example of why she is such a magnificent writer!
Also in the Patrik Hedstrom and Erica Falck series | View all